Volvo's Smallest Electric SUV is Also its Fastest-Accelerating EV Yet
The EX30 goes from 0 to 60 mph in 3.4 seconds.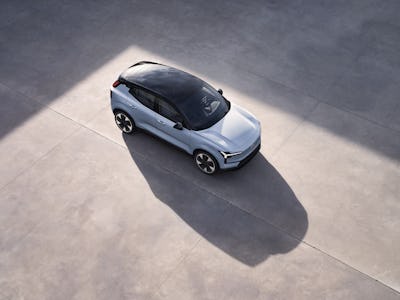 Volvo
Volvo's EX30 SUV is here and it's going all-in on safety and speed.
The EX30 will be Volvo's first small SUV model, adding to the automaker's lineup of four EV models now. Before the EX30, Volvo introduced its full-size, seven-seater EX90 to go along with the existing C40 Recharge and the XC40 Recharge EVs. While Volvo buyers didn't have a choice but to buy at least a mid-size SUV, the EX30 feels like an ideal option for a daily driver that doesn't take up too much space.
POWER OR RANGE?
Volvo is building the EX30 with two powertrain options, one focused on range and another focused on performance. Both of the models will use a 69 kWh battery that can charge up from 10 to 80 percent in about 26 minutes. For the Single Motor Extended Range model, Volvo's bigger battery gives it an estimated range of 275 miles.
If you're seeking performance, the EX30 comes in a Twin Motor Performance model that's all-wheel drive and is powered by two motors, as the name suggests. This variant packs 422 horsepower and can go from 0 to 60 mph in 3.4 seconds, making it Volvo's fastest-accelerating car.
On the inside, Volvo emphasized a smart interior design that has plenty of storage space, including a multi-drawer design within the center console. A 12.3-inch tablet acts as the infotainment center with a customizable home screen, a minimal display mode when driving, and built-in Google apps and services. The EX30 also includes a wireless phone charger in the front seat storage compartment, along with four USB-C ports scattered throughout the EV.
As expected with Volvo, the EX30 will have a bunch of safety features that make city driving a little less terrifying. There will be an anti-dooring alert that pings you if you're about to open your door into the path of a cyclist or pedestrian. When driving, there's a driver alert system to detect drowsiness or distracted driving, a collision avoidance system that automatically brakes to avoid accidents, and a next-gen Park Pilot Assist feature that takes care of parking for you.
CROSS COUNTRY MODEL COMING
Volvo made the EX30 available for preorder for U.S. customers with a $500 reservation fee. The compact SUV will come in five exterior colors and four interior color options, starting at $34,950 in the U.S.
Beyond the EX30 release in the U.S., Volvo says it's working on a Cross Country version of its small SUV with preorders to open in 2024 and production to start later that year. The adventure-ready version of the EX30 will have more ground clearance, 19-inch black wheels or 18-inch wheels with custom tires, and Cross Country branding all over.