Volvo's Smallest Electric SUV Packs In a Ton of High-Tech Safety Features
You'll never risk dooring a cyclist again.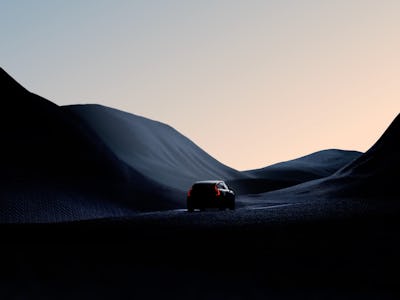 Volvo / YouTube
Volvo's smallest SUV yet is full of safety features to make driving around in a city a little less stressful. The EX30 isn't due for its global debut until next month, but Volvo teased a few of those features meant to protect the people inside and outside of the EV.
With its EX90 occupying the full-size seven-seater SUV profile, Volvo's EX30 fills the compact SUV slot. Like its other cars, Volvo is leaning heavily on its reputation for safety to separate itself from the competition. That means Volvo is including an alert system that stops you from dooring cyclists and a driver alert system to make sure you're paying attention while driving.
Cyclist saver
Volvo hasn't shown demos of its EX30's safety features yet, only explaining how they're expected to work. The door-opening alert will warn you through visual and audio cues if you're about to open the door into a cyclist's path or someone else using the road. Like the EX90, the smaller SUV will also have a driver alert system that comes standard and can detect eye and face movements around 13 times a second. That system will give you nudges if you're driving while distracted or drowsy until you start paying attention to the road again.
Volvo's safety upgrades with the EX30 don't just come in the form of new tech, the SUV is also being built with high-strength steel for its chassis and a safety cage that's meant to reduce the impact of a crash. Volvo also strengthened the EX30's A and C pillars, along with the roof, to make sure the driver and passenger are better protected from a collision. There's even an airbag on the inside of the driver's seat to reduce any injuries to your head or chest if you get T-boned.
In the cases where you wouldn't have stopped in time, the EX30 has an automatic brake feature, one that's specifically designed to avoid accidents at intersections.
SERIOUS ABOUT SAFETY
We can expect an official announcement for the EX30 on June 7, which is when Volvo will open up reservations in select markets. Volvo still hasn't revealed any specs or prices for the EX30, though.
Volvo has established itself as a leader in car safety ever since making its three-point seat belt patent available to all carmakers. It has earned a reputation for prioritizing safety, which has separated it from the competition but also attracted an older demographic. Jim Rowan, Volvo's CEO, said during a January presentation, however, that the EX30 will be part of a strategy to attract a younger demographic to the brand.