Ultra-Fast Charging and Super-Sustainable: Why the E-Bike Is the Next Car
Scientists and bike companies want you to rethink two-wheel transportation.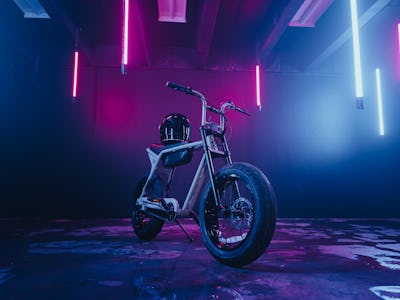 Super73
At the height of the pandemic, it seemed like everyone was venting their frustrations by taking joy rides on their newly purchased e-bikes. Sales jumped by 145 percent between 2019 and 2020 — twice the rate of old-fashioned bicycles. Now, a few years later, the hype over these gadgets is far from over.
One reason for this massive growth: People who hadn't previously considered biking have flocked to this more user-friendly option, John MacArthur, sustainable transportation program manager at Portland State University's Transportation Research and Education Center, tells Inverse.
MacArthur and his colleagues have run surveys on e-bike use and learned they help people overcome biking turn-offs, like difficulty trekking up hills and reluctance to travel long distances.
"We've found that e-bikes can help get more people biking — and more people biking more often — because it breaks down some of the traditional lists of barriers," he says.
E-bike tech has also made major strides in recent years, ensuring a better user experience than early models. For example, the mid-drive motor was introduced around a decade ago, a feature that has since made its way to most models.
Hub motors, the previous standard, offer a continuous supply of power. But mid-drive motors only ramp up when you pedal harder — offering a more natural, quieter experience.
"Now you will see most e-bikes have mid-drive motors, and that was a huge change because it really gave the feeling of regular cycling," MacArthur says. "It allows your cadence of using the pedals to mimic how you would actually bike."
Given their ability to make hills and unpredictable terrain easier to traverse, e-bikes initially appealed to older crowds with more disposable income. But the next generation of e-bikes is attracting younger customers with fancier features and more stylish digs.
LeGrand Crewse, CEO and co-founder of the e-bike company Super73, has attracted loyal customers with stylish models inspired by 1970s mopeds. When Crewse helped create the brand in 2016, he noticed a lack of attractive e-bike options for 20- and 30-somethings like himself.
"We said, 'Okay, this is not just for wealthy older people,'" Crewse tells Inverse. "With this technology, there's an opportunity to redefine personal forms of transportation, and do that in a compelling way to get people excited."
Even with today's sleeker designs, e-bikes leave lots of room for improvement. For one, they're relatively pricey — models can run anywhere from around $1,000 to tens of thousands of dollars, depending on the features and quality. They're also pretty heavy and take a while to charge. And, as you may have heard, e-bike batteries have sparked fires and set buildings ablaze across the country.
But scientists and startups have designs in the works that could make e-bikes safer and more efficient. They could even help communities by collecting vital environmental data and offering WiFi hubs, among other benefits.
All in all, these breakthroughs — along with improved biking infrastructure — could push even more people to adopt this eco-friendly form of transportation.
In fact, as Crewse points out, e-bikes offer a more sustainable way to get around than electric cars. E-bikes get 30 to 100 more miles per pound of battery than their car counterparts and produce lower carbon emissions throughout a vehicle's lifetime. So if more people can rely on bicycles as a primary mode of transportation, our daily trips could grow greener.
"There is tremendous opportunity to inject a whole new level of quality in this space that really hasn't been done before," Crewse says. "This one of the things we're working on really hard to achieve in our next generation of products: To think of [e-bikes] as vehicles."
Better batteries
The e-bike battery fires highlighted in the news likely result from low-quality batteries made in China, MacArthur says. It's also possible that people are leaving batteries to charge for too long, or in extreme temperatures. Still, these fires point to a broader problem: Batteries tend to be expensive and take a while to juice up.
Many of these blazes were sparked by lithium-ion batteries, a common component in everything from e-bikes and electric cars to smartphones and solar energy storage. At the moment, it can take anywhere from about two to six hours for them to charge.
But cyclists already have hope for quicker power-ups. Last month, Super73 announced its new C1X electric motorcycle — which will hit the market in 2024 — will offer 10 to 80 percent charge in just 15 minutes, giving riders around 70 miles of range (Super73 tells Inverse that the company can't yet share details on the battery materials).
Cyclists already have hope for quicker power-ups.
Further ahead, researchers are looking into a range of futuristic battery technologies. For instance, solid-state batteries use solid materials like ceramic instead of flammable liquids to transfer ions between electrodes. These could help prevent fires, slash charging times, and offer bikes and cars longer ranges by putting more energy into a smaller package.
Currently, massive tech companies like Samsung and Nissan say they have solid-state batteries in the works for EVs, which could potentially make their way into bikes, too.
Some old ideas could even make a comeback. Sodium-ion batteries fell out of favor as lithium-ion batteries gained popularity in the 1990s, but they could soon see their day in the sun. This past summer, a team from the Department of Energy's Pacific Northwest National Laboratory announced a long-lasting, eco-friendly sodium-ion concept that could resist fires. Around the same time, a Chinese brand called Niu Technologies said they were working on a bike that uses this salty tech.
If any of these more efficient battery concepts work out, they could help make e-bikes lighter — tackling a common complaint among cyclists.
Connecting cities
Designs for smart e-bikes could benefit not just the rider, but their surroundings, too. Sensors on bikes could help collect data on local air quality, traffic, and road conditions, as suggested by researchers at the Copenhagen Wheel Project.
E-bikes could also offer WiFi and battery power to nearby devices. Imagine: You're stuck somewhere with no signal and a dying phone, but you can get some juice and signal from a bike parked on the sidewalk.
In the future, sensors on bikes could even detect gas leaks or track down people who are missing, according to Robert Shorten, an electrical engineer at Imperial College London's Dyson School of Engineering Design.
Shorten and his colleagues have previously researched these possibilities for electric cars, but he says these tasks could likely also be accomplished with bikes. And we could see these sorts of features rolling out in vehicles relatively soon.
"I think all the automotive manufacturers are curious about this," Shorten tells Inverse. "They're always looking for new ways to monetize their product."
"It should all be electric."
And for those who don't want to pay thousands for an electric bike or don't have the space at home, researchers are looking into ways to boost bike-sharing programs. At the moment, companies often have employees switch low-power batteries for freshly charged ones at bike docks — but future stations could rely on solar panels or even energy from pumps powered by a city's water system.
Moving forward, MacArthur thinks bike-sharing companies should only offer communities with e-bikes. Living in Portland, he has observed dramatic ridership increases with the all-electric bike-sharing fleet. In fact, the program saw a 60 percent increase in rides between 2021 and 2022, which MacArthur attributes to its accessibility for all types of cyclists.
"I look at bike-share as being a part of our public transportation system," he says. "If it's meant to be serving everyone … to get the most amount of ridership and use, it should all be electric."
Editor's Note: This story has been updated to reflect new information shared by Super73 with Inverse on when its new model of the C1X electric motorcycle will be available.
Subscribe to Horizons
This has been an adaptation of Inverse's weekly HORIZONS newsletter. Subscribe for free to receive it in your inbox every Thursday.