VanMoof's New E-Bikes Offer Premium Features at a More Affordable Price
The S4 and X4 will come in four fun colors and with all the anti-theft features VanMoof usually offers.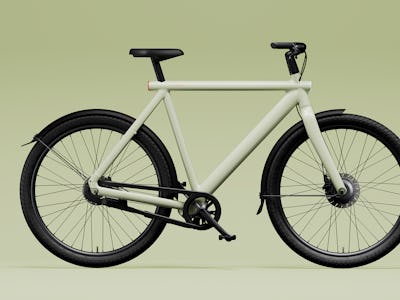 VanMoof
The trendy e-bike company VanMoof just got a whole lot trendier with its two latest e-bikes. VanMoof released another set of minimalist e-bikes, called the S4 and the X4, that are more colorful and more affordable than the fifth-gen offerings that were released last year.
VanMoof designed its e-bikes for commuting around a city and the S4 and X4 are no different. Like its siblings, the latest e-bikes still have a bunch of anti-theft features so you don't have to constantly worry about someone stealing your expensive ride.
SIMPLE, YET STYLISH
VanMoof's S4 and X4 share a similar frame to their popular predecessors, the S3 and the X3, where the X model is meant for shorter riders, while the S name denotes a larger frame. VanMoof went with a 250W front-wheel motor for the S4 and A4, adding dynamic motor support and automatic two-gear shifting to make riding even smoother.
The S4 and A4 are powered by a 478 Wh battery and both still offer the Turbo Boost feature that provides 59 Nm of acceleration. If you're riding either e-bike in economy mode, you'll get around 93 miles on a single charge, but if you're going full speed, you'll get 37 miles of range. Both of the e-bikes will take 4.5 hours to fully charge, but only 1.5 hours to get to 50 percent, making them much faster to charge than the S5 and the A5.
Compared to the more expensive fifth-gen models, VanMoof went with a Gen 4 Kick Lock that locks the rear wheel and activates the alarms when you tap it. The S4 and A4 may not have a Halo Ring interface or active-retract pin on their rear wheel locks like the S5 and A5, but they do charge much faster. The S4 and X4 still have most of the anti-theft features that we've come to expect from VanMoof though, including location tracking, tamper detection, and remote lockdown.
MORE COLORS
Instead of sticking to two colors, VanMoof decided to double the number of options with the S4 and X4 coming in Evergreen, Sunbeam Yellow, Purple Fog, and Foam Green. The latest e-bikes are already available on VanMoof's website and start at $2,498. That is a pricey offer, but they're actually more affordable than the S5 and A5, which both start at $3,998.
For U.S. customers, the Evergreen color will go on sale first in late May, while Purple Fog comes out in June, Sunbeam Yellow in July, and Foam Green in late July. Customers in the European Union will get the S4 and X4 a little earlier, but you should still join the waitlist so you don't miss the chance to snag the color you want.