Razor's New E-Bike Offers Super73 Style at a Price You Can Afford
The Rambler 20 fills a major gap for affordable and stylish e-bikes.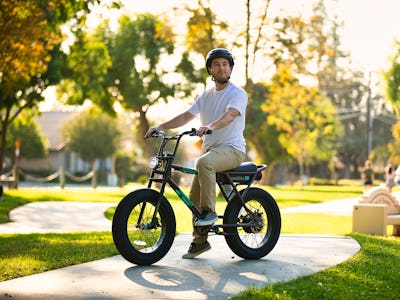 Razor
E-bikes are a lot of things — fun, functional, and futuristic to name a few. One thing they are not, however, is largely affordable. That means, when an e-bike comes onto the scene with a reasonable price tag and the specs to back it up, it's worth paying attention to; point-in-case, Razor's Rambler 20.
Razor — yes, the classic scooter brand — has dabbled in e-bikes before, though primarily smaller bikes made for children. This time around though, its e-bike endeavor, the Rambler 20, is geared specifically towards adults and offers a nice mix of style and specs to suit grown-up enthusiasts of electric mobility.
Rambler 20 Motor, Speed, Range
Performance-wise, the Rambler 20 comes with a single 500W motor that is capable of speeds of about 20 mph and a 37V battery that Razor says will offer a range of about 16.5 miles. Riders will be able to use the e-bike in five incremental levels of pedal-assist mode or go fully electric.
The frame itself is steel and comes equipped with an LED readout that shows battery life, speed, and ride modes. While none of those metrics is in and of itself mind-blowing, it's when you couple the specs with a competitive price and aesthetics that the Rambler 20 really shines.
Affordably Retro
If the Rambler 20 looks familiar, that's because it heavily borrows from the aesthetic of Super73, which offers its own retro-inspired line of e-bikes. Among the similarities are the large, luxurious bench seat and fat tires — or balloon tires as Razor calls them. There's also a pretty retro-looking headlamp if that's your thing.
The most notable difference here, however, is price. While Super73's e-bikes often run above $2,000 (the cheapest mode, the Z-1 has a $1,500 price tag), the Rambler 20 will debut at $999.
Yes, $1,000 is still a lot of money to spend on what, for many people at least, will be more a recreational form of transportation, but when compared to the rest of the e-bike market, the Rambler 20's price point slots the bike in at one the most solid options out there.
For comparison, one of the most successful purveyors of affordable e-bikes, Lectric, also has a starting price of $999. Other formerly high-end bikes like Wing's Freedom 2 can also now be snagged for around the same price.
If there's one knock against the Rambler 20, however, it's the price-to-range comparison. While Lectric's long-range e-bike can be had for $1,179 and offers up to a 65-mile range, the Rambler 20's battery brings about 17 miles to the table. Whether that's a dealbreaker is another story entirely; for urban riders who travel short distances, range isn't usually the biggest consideration.
Rambler 20 Release Date
Razor says its newest e-bike will go on sale exclusively at Best Buy in stores and online starting May 2 before a wider release down the road.