Cake's new work e-bike has the range of a small electric car
The Åik's customizable frame can be fitted with racks, baskets, and passenger seats —and it has a more than 200-mile range.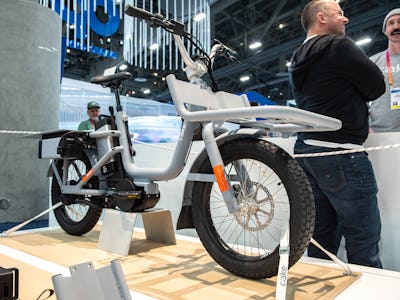 Martin S. Fuentes / Inverse
This e-bike can haul cargo as easily as it can get you around town. Cake introduced its electric utility bike called the Åik at CES 2023. Cake designed the Åik as part e-bike, part utility vehicle since it fits the bill as a commercial two-wheeler just as much as it does a daily commuter bike.
The Åik is highly customizable since you can attach racks, bags, trailers, baskets, or passenger seats to the modular aluminum frame. The best part about the Åik is that you won't need a motorcycle license to use it as it qualifies as a Class 2 e-bike —it only has pedal assist up to 20 mph.
Multipurpose vehicle — For Cake, the Åik fills the gap between its more work-focused e-bikes like the Ösa and its daily commuter-style offerings like the Makka. Of course, it still has that Cake aesthetic with its tubular and minimalistic design.
The Åik can be equipped with up to three 750 Wh batteries for a maximum range of 224 miles. Each battery gives you 74.5 miles of range, but they also can charge up your electronic devices and tools with Åik's built-in USB-C charging port. As for the e-bike itself, it takes two hours to charge it up from 0 to 80 percent and three hours to fully charge it.
The Åik's motor gets you a peak power output of 1,000W and 100Nm of torque, or about 74 lb-ft, letting you hit a top speed of 20 mph with throttle assist. Cake says without throttle assist, the Åik goes as fast as you're willing to pedal on its 20-inch tires.
Since the Åik is a utility e-bike, it has a gross vehicle weight of around 441 lbs. If you cut out the 77 lbs of the e-bike itself and the weight of the batteries, you still have more than 300 lbs of cargo capacity to work with.
Cake is building the Åik with a telematics unit that includes GPS, Bluetooth, and GSM compatibility through its app. The Åik will also have several anti-theft features like a GPS-activated alarm and tracking, security screws for both wheels, and an integrated seat clamp.
This Cake doesn't come cheap — The Åik is already available for preorder on Cake's website, with a starting price of $6,470. That's not even counting all the potential add-ons. If you want the max range for your Åik, you're going to have to shell out $780 for each battery. On top of that, the accessories for the utility e-bike range from a $145 handlebar controller to $345 for a large carrier that you attach to the back. Cake says it'll offer even more accessories for the Åik in the spring.
Cake is offering the Åik bundled with a medium or large work package, but those start at $7,290 and $9,140 respectively. That's definitely a lot to pay for a work bike that tops out at 20 mph. Still, Cake is banking on people who want its no-frills design in a multi-purpose utility e-bike.
INVERSE brings you everything from the fun and futuristic world of consumer technology at CES 2023. For all the latest technology coverage from the show, go to the INVERSE CES 2023 hub.