Fuell's New E-Bikes Have Almost As Much Range as Tesla's Model 3
Equipped with two batteries, the Fuell Flluid-2 has a range of up to 225 miles.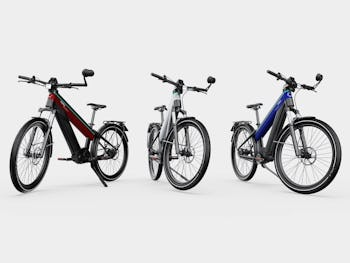 Fuell
E-bikes, and their impressive ranges, are officially giving EVs a run for their money. At the forefront of that is Fuell and its recently announced Flluid-2 bike, which is offering 225 miles on a single charge. A slightly less capable sister bike, the Flluid-3, offers a range of 110 miles.
For the record: 225 miles on a single charge is a lot. Fuell says that range should be able to get you from New York to Boston, or from Paris to Brussels, on a single charge. That may seem a little impractical, but that doesn't change the fact that the Flluid-2's range is only about 50 miles below the EPA estimated range for a standard-range Tesla Model 3.
DUAL-BATTERY DESIGN
To get that impressive range, the Flluid-2 uses two batteries for a 2,000W capacity. The long-range e-bike uses a 750W motor and an automatic seven-speed gearbox to make going up and down hills a breeze. You'll also get pedal assist up to 28 mph, so you can conserve some energy on those long-range bike rides.
The Flluid-3 shares a lot of the build specs for the Flluid-2, except that it uses only one battery for a 1,000W capacity. The single battery gives it a 110-mile range, which is still up there in terms of e-bike range. Design-wise, Fuell went with a step-through design for the Flluid-3, making it much easier to get on and off.
The e-bikes take four hours to charge up to 80 percent and six hours to get to 100 percent. Both the Flluid-2 and Flluid-3 have aluminum alloy frames that are paired with 27.5-inch Pirelli tires. There's also a 2.3-inch display that shows the current speed, trip info, battery level, and which gear you're on. If you want more features, you can pair the e-bike with the Fuell Rider app that allows for remote lock and unlock, GPS tracking, usage data, maintenance alerts, and motion sensing and theft warnings.
NO MORE RANGE ANXIETY
Both the Flluid-2 and the Flluid-3 will come in dark red, dark blue, or silver colorways. The more modest Flluid-3 retails for $5,495 but is discounted to $3,699 since it's being done through Indiegogo. Similarly, the ultra-long-range Flluid-2 goes for $5,995 usually but will be reduced to $3,999 through the crowdfunding campaign.
According to its Indiegogo page, Fuell is going to start assembly on the Flluid-2 and Flluid-3 e-bikes in May and start shipping them out in July. If you don't want to wait, Fuell's first e-bike, the Flluid-1, starts at $5,495 and has a range of up to 125 miles. There are also plenty of other long-range e-bikes out there, like Juiced Bikes' HyperScrambler 2 or Cake's Åik. Still, none of them can quite compete with the 225-mile range of the Flluid-2.