Toyota's New EV Concept Is Made for Off-Roading on the Moon
Is it off-roading if there are no roads?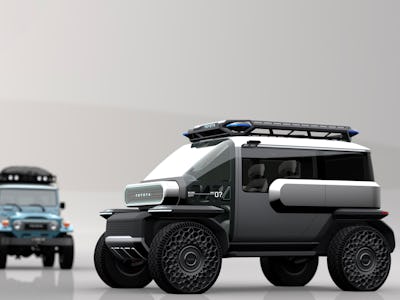 Toyota
It's a moonshot, but maybe Toyota's Baby Lunar Cruiser can help the lagging automaker catch up in the race for making more EVs. Toyota unveiled its ultra-futuristic EV concept that's meant to handle Earth's rugged roads as well as the uncharted terrain of the Moon.
The concept is the latest wacky brainchild of Calty Design Research, the American division of Toyota's design network that has been putting out wild conceptual designs for 50 years. Calty has made some serious contributions that influenced Toyota's production models like the Celica and Tacoma. In between those production models, Calty has put out some experimental designs like the Scion NYC where the driver almost stands upright when behind the wheel.
EXTRATERRESTRIAL EV
Calty's latest concept took design cues from the original Toyota FJ40 Land Cruiser and combined it with the design behind an actual Lunar Cruiser that Toyota is developing along with the Japanese Aerospace Exploration Agency. The result is an EV that looks equal parts space rover and off-road SUV.
The Baby Lunar Cruiser is powered by in-wheel electric motors and is controlled by dual joysticks. When you're inside, the glass canopy design gives you maximum visibility along with a panoramic augmented reality dashboard. You can configure the interior how you want since the seats are highly adjustable and the lightweight panels are modular to fit any occasion. On the outside, the Baby Lunar Cruiser's grille houses its array of cameras and sensors up front, while the back has a split tailgate for easier access.
ROVING BEFORE WALKING
It doesn't look like Toyota has even made a prototype of the Baby Lunar Cruiser, so we shouldn't expect a production-level model either. That's not to say that we won't see elements of the moon rover, since Calty's fourth-gen Supra design had some influence on the actual production model.
We're still a while out from space tourism being more widely accessible, so the Baby Lunar Cruiser design is really ahead of its time. Still, we have to give credit to Toyota for trying wild, out-of-this-world designs even if it is behind in delivering production-ready EVs.
This article was originally published on