How Toyota's 745-Mile Battery Could Launch It Back to EV Relevancy
Toyota says it found a better way to make solid-state batteries for EVs.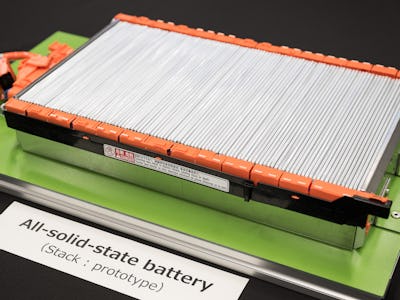 Toyota
About a month after Toyota revealed its comprehensive plans for future EVs, the company says it's one step closer to delivering an electric car with a max range of 745 miles according to a report from Financial Times.
In its plans, Toyota claimed that it would have a battery-powered EV with a 621-mile range in the next few years. Beyond that, the company also said that it was working on a solid-state battery with 20 percent more capacity, giving us a 745-mile battery. Even further, Toyota said it was working on a solid-state battery that could offer a 932-mile range. For now, Toyota confirmed that it has at least streamlined the manufacturing process for the materials of solid-state batteries, paving the way for a potential breakthrough. Here's what that means for Toyota and the potential for super long-range EVs.
HOW CAN TOYOTA MAKE A 745-MILE BATTERY?
Toyota claims it can hit this impressive range by using solid-state batteries, instead of the existing lithium-ion batteries. Solid-state batteries are generally thought of as more expensive and labor-intensive, but Toyota says it made a "breakthrough" that halves the weight, size, and cost of manufacturing with solid-state batteries."
More specifically, Keiji Kaita, president of Toyota's research and development center for carbon neutrality, says the company found a way to reduce the number of processes to make its solid-state batteries, which in turn makes them cheaper.
WHAT ARE SOLID-STATE BATTERIES?
Compared to the far more common lithium-ion batteries, solid-state batteries are generally smaller, charge faster, and can carry more energy. Solid-state batteries are also considered safer since they don't use the same flammable materials found within lithium-ion batteries. Since solid-state batteries are superior in several categories, they are also harder and more expensive to manufacture.
We've yet to see an EV that's powered with a solid-state battery, but companies have been playing around with different battery chemistries. Ford recently switched its Mustang EVs to lithium iron phosphate batteries, much like Tesla and Rivian have been doing.
WHEN WILL TOYOTA'S SOLID-STATE BATTERIES HIT THE MARKET?
Toyota plans to have its solid-state batteries in an EV by 2027. Toyota's recent announcement of improved manufacturing processes for its solid-state batteries is promising, but it's also worth remaining skeptical about how soon these will be incorporated into production-ready EVs. Its current "breakthrough" is still just a prototype and scaling the production of nascent technology is no easy feat.
Before its solid-state battery-powered EVs, Toyota will release an EV with a 621-mile range sometime in 2026.
HOW WILL THIS CHANGE TOYOTA'S EV STRATEGY?
Toyota is undoubtedly behind in the EV market since it only has the battery-powered bZ4X on the market along with a bunch of hybrid offerings. However, developing much-needed EV battery technology could be where Toyota makes a comeback. If successful, other EV makers could be interested in using Toyota's solid-state battery tech in their own cars.
Toyota isn't alone in researching and developing solid-state battery technology, though. Other EV makers have already picked up on the trend, with Mercedes-Benz, Volkswagen, and Stellantis all partnering with third-party battery companies that develop solid-state batteries. For Toyota, its recent progress with solid-state batteries could be the hail mary that it needs to be relevant in the EV world again.