Why Toyota Can't Give Up on the Prius and Hybrids Cars
Every other EV maker is busy releasing fully-electric EVs, but not Toyota.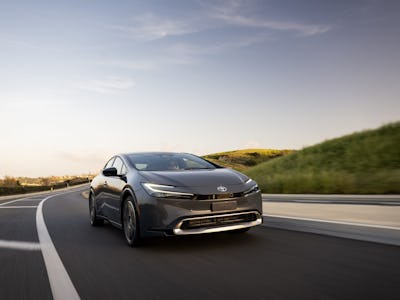 Toyota
Since Toyota's Prius debut in 2001, it's become synonymous with the mere mention of hybrid cars, and more than two decades removed from its release, that status as the hybrid vehicle has endured.
Though the Prius' success peaked with 236,655 models sold in 2012 in the U.S., Toyota managed to keep sales going with more than 59,000 models sold in 2021, according to Carsalesbase. But while the Prius' reputation has endured, the auto industry around it has changed. For the eco-conscious and motorists concerned with cost-efficiency, hybrids are far from the only game in town. Today, the title of Next Big Thing goes to electric vehicles.
And while the Prius remains one of Toyota's most iconic cars, the automaker might be turning a victim of its success.
STILL MAKING NEW HYBRIDS
Most other EV makers have been pushing hard to fill out their battery-powered EV portfolio, offering relatively few hybrid models, almost as an afterthought. Toyota, on the other hand, has insisted on hybrids being a viable EV choice for those who aren't yet willing to switch over to a fully electric model. It even recently refreshed the plug-in version of its popular hybrid with the Prius Prime.
Compared to other EV makers, Toyota is the only major brand that still offers an extensive lineup of hybrid vehicles without having many all-electric offerings. Hyundai may have four current hybrid models, but Toyota has its Prius and Rav 4 models as a hybrid and plug-in hybrid, and its Corolla, Camry, Sienna, and other cars as hybrids. That may seem like a lot of hybrid choices, but Toyota also argues that it can make 90 hybrid EVs or six plug-in hybrid EVs for the same amount of materials that one all-electric EV requires.
With so many hybrid options, Toyota is hedging its bets that some people may still be unconvinced about an all-electric car, whether it's due to a higher price tag, overall availability, or a lack of nearby public charging stations. As the only major manufacturer offering a large variety of hybrid models, its a strategic move from Toyota to uphold its reputation as the go-to hybrid EV brand, but also potentially a distraction from the full EV future.
ROUGH TRANSITION
There could be some serious downsides to Toyota's insistence on hybrids, especially since it could pull away focus on transitioning to all-electric models. Instead of fully investing in battery-powered EVs like others, Toyota is approaching its electrification process with a multi-pronged approach that includes hybrids, battery-powered EVs, and hydrogen fuel cell-powered EVs. That's a lot of EV types and spreads Toyota thin across categories.
Toyota recently said it's working on improving its EV efforts related to its battery and hydrogen fuel cell technologies, but so far Toyota's only battery-powered EV is the bZ4X which has been off to a rough start after a major recall months after its release. In terms of other fully electric models, Toyota offers its Mirai which has only managed to sell around 2,600 models in 2021 in the U.S.
STICKING TO THE STRATEGY
On one hand, it makes sense for Toyota to stick to hybrids given its reputation and success in the category, but even for a company as large as Toyota, pouring resources into one thing instead of another still comes at a cost. In this case, that cost could very well be the pursuit of full battery-powered EVs.
There's clearly still a place for hybrid vehicles as EV infrastructure in the U.S. continues to come online and EV adoption rates continue to climb, but it's hard to tell if Toyota's strategy of using hybrid cars as a bridge will pay off. At some point, there's a choice to be made: will Toyota cling to the hybrid Prius of the past, or take its clout as a titan of eco-friendly cars and pave a path for the future EV Prius we need.