Hyundai's Secret New EV Is Shaping Up To Be Its Most Powerful Yet
It's being built on Hyundai's upcoming "eM" EV architecture.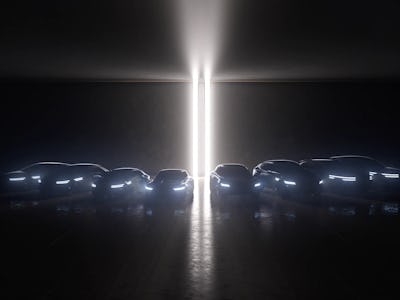 Genesis / YouTube
Hyundai Motor Group isn't slowing down in developing its EVs. According to a report from the South Korean news outlet ETNews, Hyundai is working on a sporty EV that will be built on its upcoming EV architecture called "eM."
The high-performance EV, codenamed "GT1," will also see a range upgrade and should be the first offering on Hyundai's new EV architecture. While there's nothing official from Hyundai yet, the GT1 project slots nicely into the Korean automaker's lineup which is missing a sporty electric sedan.
MORE POWER, MORE RANGE
For the GT1 project, the new eM platform is reportedly built with a larger battery capacity of 113.2 kWh. That's a major improvement over Hyundai's sportiest model so far, the Kia EV6 GT with a 77.4 kWh battery. Compared to the competition, the eM platform outclasses Tesla Model S' 100 kWh battery and Mercedes-Benz EQS' 107.8 kWH battery.
The GT1 prototype reportedly uses a total of three motors, with the highest performance version combining a 200 kW and a 250 kW motor for a total of around 603 horsepower. That also surpasses the EV6 GT's max output of 430 kW, or around 576 horsepower.
The larger battery also means more range, which would reportedly amount to between 700 to 800 kilometers, or around 434 to 497 miles, on a single charge. Hyundai introduced its eM and eS platforms back in October, claiming that the eM platform would translate to a 50 percent improvement in range compared to its current EVs that are built using the E-GMP platform.
STILL UNDER WRAPS
While Hyundai has reportedly finalized the specs for its GT1 project, we don't know how it will look yet. Looking at Hyundai's other models, it could draw heavily from the Kia Stinger since it's a sporty mid-size sedan. However, the ETNews report noted that it would be an E-segment car that could share similarities to the K8 model that never made its way over to the U.S.
ETNews also reported that Hyundai could introduce the GT1 as early as 2025, which would line up with Hyundai's plans to introduce the eM platform by 2025. While the GT1 project will likely be the first EV we see with the upcoming eM platform, there's no doubt that Hyundai will introduce lots more EVs on its new architecture which means longer range numbers in the future.