Toyota's Pitch to EV Skeptics is Fake Engine Noise and Simulated Gear Shifting
It won't be the real thing, but it's better than nothing.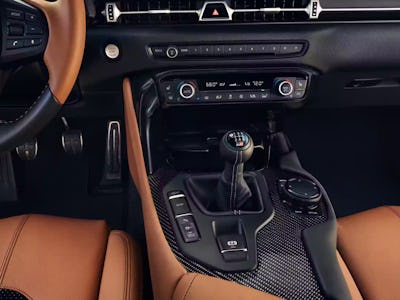 Toyota
Even with our EV future, it looks like the stick shift will stick around for a little longer — at least if Toyota has its way. The Japanese automaker says it's working on a system for its electric vehicles that will imitate having a manual transmission. Toyota revealed its plans during an event last week discussing future endeavors with EV technology.
Fake gear shifting and engine noises feel like a weird design choice, but considering Toyota is lagging behind in the EV game, it could certainly use some gimmicks to bring it back up to speed. We already knew Toyota was working on this after it filed patents for this technology in early 2022.
It doesn't feel likely that Toyota would put this EV system on its current bZ4X model or even Lexus' upcoming RZ 450e, but it could make for a fun inclusion with its sportier models. After all, Toyota did confirm it was working on an electric sports car to be released by 2026.
SIMULATED SOUNDS
For some, the beauty of an EV is that it doesn't produce much noise or require shifting gears thanks to its electric motors. For others, a manual transmission and a loud engine served as bragging rights or a badge of honor. So Toyota may be onto something that could serve a niche demographic who want to adopt an EV but still craves a more sensory driving experience.
Toyota says its EV system uses simulation software that will produce fake engine sounds and imitate gear changing as you drive. Toyota is even considering a stalling feature if you mess up shifting gears, but it isn't sold on that feature yet.
STILL IN DEVELOPMENT
Toyota isn't the first one to propose fake engine noises or an imitation manual transmission for EVs. Dodge put out its Charger Daytona SRT concept last year which includes a fake exhaust that produces up to 126 dB and its "eRupt multi-speed transmission" where you'll feel shifting points as you drive. Both the Audi e-tron GT and the Porsche Taycan also have two-speed transmissions.
Toyota is still developing the technology, so we won't be seeing its imitation manual transmission on any EVs soon. Toyota could potentially include it in its next generation of EVs that's billed to come out starting in 2026 and would offer record-breaking ranges.