How Toyota Plans To Catapult Its Future EV Toward a 600-Mile Range
The yet-to-be-named battery-powered EV will come out in 2026.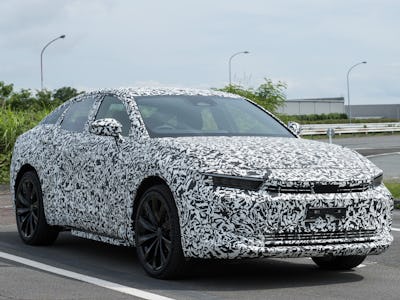 Toyota
Toyota has fallen behind when it comes to electric vehicles, but it's not giving up. The once-dominant Japanese automaker is seemingly committing to EVs now, as detailed in a recent presentation about its future. Unlike other car brands, Toyota is embracing battery-powered electric vehicles, along with plug-in hybrids and hydrogen fuel cell-powered EVs.
As for its battery-powered EV plans, Toyota claims it will have a model offering a "cruising range" of 1,000 kilometers, or around 621 miles. We're not sure how the "cruising range" language will translate to a more real-world range, but it would still be a major improvement for Toyota. Either way, a well-built Toyota EV with a solid range would be a major step toward the legacy automaker becoming more relevant in the world of EVs. Here's what we know so far about Toyota's plans.
WHAT IS TOYOTA'S PLAN FOR A LONG-RANGE EV?
Toyota says it will make an EV with a "cruising range" of around 621 miles by using next-gen batteries and sonic technology. For the battery side, Toyota says it will enhance its liquid lithium-ion batteries by improving how much energy its square batteries can hold.
As for sonic technology, Toyota says it will get better aerodynamic drag reduction based on rocket hypersonic aerodynamics. In other words, Toyota is using rocket science to help design its future EVs. Altogether, Toyota wants to reduce costs by 20 percent as compared to the existing bZ4X, while also achieving a quick charge time of around 20 minutes or less with its upcoming batteries.
HOW WILL TOYOTA ACHIEVE A 600-MILE RANGE EV?
It may have felt like Toyota has been hesitant to enter the BEV market, but its research and development moves show a complete 180. Toyota says it's been "actively investing in future-oriented areas since 2016" and has shifted more than half of its R&D staff and expenses to "Advanced Development" fields.
To that end, Toyota will have a performance version battery that will offer that previously-mentioned 621-mile cruising range, a popularized version of that battery that will be cheaper to produce, and a bipolar lithium-ion battery that will have better specs than the performance battery. On top of that, Toyota is working on all-solid-state batteries for its EVs, looking to mass-produce them in 2027 or 2028. The solid-state battery would offer a 20 percent improvement in range compared to the 621-mile battery, and Toyota is even working on one that would be a 50 percent improvement for a potential 932-mile range.
Before we get too excited, let's take a moment to remember the automaker's rough start with BEVs. The bZ4X was its first fully-electric car and has since been recalled for the possibility of the EV's wheels falling off. Just looking at range, the bZ4X also didn't come anywhere close to 600 miles since it offered up to 252 miles. Toyota did get a much more impressive range of 402 miles with its hydrogen-powered Mirai, but that features a completely different architecture than the bZ4X.
WHEN WILL TOYOTA RELEASE ITS LONG-RANGE EV?
Toyota is making some bold claims, including that its next-gen battery-powered EVs would help it become a world leader in battery-powered EVs. Toyota's upcoming BEV is still going to have to compete with more well-established models like the Lucid Air and its 516-mile range or the Tesla Model S with 405 miles of range. In the future, Toyota will also have to contend with Lucid's future models that have a more than 400-mile range and the potential Emily GT that came from the remnants of Saab, also claiming a 621-mile range.
Toyota says it will have a full lineup of BEVs in 2026, including the model with a proposed 621-mile range. Toyota didn't reveal any names, prices, or form factors with its upcoming BEV, but here's hoping this will help the legacy carmaker can return to its former glory.