This Secret EV Has a 621-Mile Range — If It Ever Gets Made
The company behind the EV may be all but shuttered, but the IP rights to the Emily GT are up for grabs.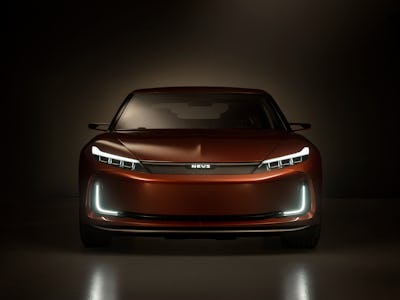 Plint Marketing
If you're wondering what ever happened to Saab, the news is not great. The Swedish carmaker may have hit its stride in the 80s but has since gone bankrupt and had to close up shop in 2011. National Electric Vehicle Sweden, or NEVS for short, tried to make something out of Saab's ashes but fell victim to a similar fate.
There's still an opportunity to salvage the remains of both Saab and NEVS since a secret EV project was recently revealed. NEVS announced earlier in the year that it would also be halting operations, but the carmaker revealed an enticing all-electric sports car that we would've loved to see hit the market. The Emily GT project from NEVS boasted an impressive range, sporty specs, and a sleek interior reminiscent of Tesla.
DEVELOPMENT LIMBO
Considering the Emily GT might never make it to market, we have to consider all of its claimed specs with a grain of salt. Still, an electric sports car with around 621 miles of range is worth noting. That impressive range is made possible with a massive 175 kWh battery pack. It's not as large as GMC Hummer EV's 212 kWh battery, but it's certainly a lot of weight to tack onto a sports car.
As reported by Carup, the Emily GT would use four electric motors, one on each wheel, for a total of 480 horsepower. A more powerful version was slated to be released afterward, which would offer 653 horsepower, 2,200 Nm of torque, and a 0 to 60 mph in 3.2 seconds.
The Emily GT was meant to eventually hit production, but financial troubles with NEVS and its parent company, Evergrande, ultimately put an end to that. NEVS did produce prototypes of the Emily GT, but it seems like the project is stuck in limbo at the moment.
INDEFINITELY ON PAUSE
As of now, NEVS is still in its "hibernation" mode. The company had to do this to avoid bankruptcy, but it came at the cost of laying off the overwhelming majority of its staff and hitting pause on all operations.
There's still a glimmer of hope for those who are into the Emily GT project. Peter Daul, who formerly worked at Saab and was in charge of the Emily GT project at NEVS, says the IP rights for the electric sports car are up for sale. The best case scenario would be that design from ex-Saab designers gets its swan song of sorts. Still, there's a good chance that NEVS falls into obscurity and we never see the Emily GT hit production.