Inverse Daily: Boston Dynamics' robotic dog, Spot hits the streets
Boston Dynamics' unnerving robotic dog, Spot, is finally out of the lab and into the hands of the police.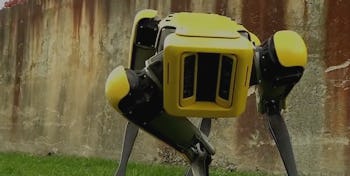 Hello, and welcome! It's a new moon 🌑 today, which always gives us a chance to reset. In this Tuesday edition, we've got your essential guide on surviving the holiday season's dreaded small talk, some good news about Jupiter's beloved Great Red Spot, and an eerie look into the future with robot dogs.
I'm Passant Rabie, space writer at Inverse, and this is Inverse Daily. Let's get into it.
This article is an adapted version of the Inverse Daily newsletter. Subscribe for free and earn rewards for reading every day.
INVERSE QUOTE OF THE DAY
"Spider-Man was in New York. You might come home one day and see him swing over your head. It just made it more grounded and, dare I say, real."
— Method Man, hip-hop legend and one of the founding members of the Wu-Tang Clan.
Good robo-doggo!
Boston Dynamics' unnerving robotic dog, Spot, is finally out of the lab and into the hands of companies, Michael Perry, an executive from the company, tells Inverse tech writer Sarah Wells. "Tens of units" are in the hands of industries like construction and oil and gas, as well as one bomb squad unit in Massachusetts that finished its three-month trial with the "dogs" earlier this month.
The use of these robots in law enforcement has disturbed some, but Perry says the agreement between the company and lessees is that Spot cannot be used to cause harm or intimidate, and that the primary goal of deploying Spot in these environments is to scout out potentially antagonistic environments ahead of human personnel.
Perry says Boston Dynamics aims to make 1,000 Spot units, but that this relatively small-scale production still allows them to work closely with industry partners and monitor how its robots are being used.
Find out when these dogs are hitting the streets →
I, for one, welcome our robot overlords:
How to survive the small talk of the season
The holiday season often includes a seemingly endless marathon of parties, family meals, and friendly reunions. This social merry-go-round can be a dreaded, uncomfortable part of this time of year. Luckily, it doesn't have to be if you follow some expert-backed advice.
Inverse rounded up the six best strategies to communicate effectively, even when your aunt says you've put on weight or your high school nemesis asks you about your recent breakup.
Here's all you need to float through the holidays like a social butterfly, effortless and happy. It's all about playing the conversation game, avoiding acquaintance traps, asking the right questions, and approaching people with confidence while deepening small talk. As you prepare for your next big event, consider employing these top tips and tricks.
You may become the friendliest person in the room, no matter how shy or nervous you might be inside. Fake it until you make it, friends.
"Assume the burden of other people's comfort, whether it be at Thanksgiving or in a mingling situation," Debra Fine, a communication coach and author of The Fine Art of Small Talk tells Inverse.
"If I make you feel comfortable when you're with me, you'll feel good about me. It's really as simple as that."
Don't start packing for the holidays without reading this! →
It's a special treat for the introverts among us:
Russian trolls might have failed
It's no secret that the Russian Internet Research Agency, or IRA, wanted, and wants, to influence American politics.
In 2016 alone, the infamous "troll farm" produced more than 57,000 Twitter posts, 2,400 Facebook posts, and 2,6000 Instagram posts — each designed to interfere with the election. Today, the IRA is already active on Instagram, most designed to attack Vice President Biden's policies.
While we know that's happening, what's less understood is if all that posting actually changes American minds. According to a new study, it looks like the answer is no — at least when it comes to Twitter.
That's because the Twitter accounts most likely to interact with an IRA account are already deeply infested in their political opinions. It's hard to polarize the already polarized as it's well- established that people dig in their heels if their political beliefs are challenged, even if the one doing the challenging is a troll.
Explore the depth of the Russian troll farm in our latest feature →
I would still try to avoid those tweets if I were you:
INPUT
Hey, we're starting something new and you should be the first the know.
You're a few clicks away from getting the best tech reporting on the internet – delivered directly to your inbox.
A whale's beating heart
Blue whales are among the most fascinating creatures on the planet, existing at the limits of what we know to be possible.
They are the largest animals to have ever lived on Earth, clocking in at up to 105 feet long and some 200 metric tons. (That's three double-decker buses and 30 T. rexes worth of whale.) They are also among the loudest-known animals on the planet. Scientists think that, if ocean conditions are right, blue whales can communicate with another whale 1,000 miles away. Imagine being able to yell from New York and have someone hear you in Tampa. And though they dwarf us humans in so many respects, they can live just as long as we can, averaging 80-90 years.
There is much we don't know about these blue whales, including how their heart works. New research provides some clues about the heart of a blue whale, and like its other features, it seems to be operating at its limits, too.
In a first, researchers have recorded the heartbeat of a blue whale over the course of eight and a half hours in the wild. What they found suggests blue whale hearts are working at their limits just to enable the whale to feed. As a result, these heart limitations may be what is stopping the whale from evolving to be even larger.
Listen to the rhythm of a blue whale's beating heart →
We all heart whales!
Fret not, Jupiter enthusiasts
Fans of the giant, gaseous planet have been losing sleep worrying over its famous landmark, the Great Red Spot. Observations made earlier this year by amateur astronomers suggested that the red spot was flaking away, and that it may be disintegrating into thin air.
However, a researcher is defying claims that Jupiter will lose its windy vortex, which has been brewing over the planet's surface for hundreds of years. Instead, the researcher explains the observed flaking away of the red spot as an odd occurrence of two encounters with anticyclones that caused one of them to get thrown off. And it resembled a piece of the red spot being peeled off.
Scientists have been worried about the red spot for years now, claiming that the storm is shrinking in size. However, new research suggests that while the cloud around the storm may appear smaller, the vortex itself might still be the same size.
Here's more on why the red spot is here to stay →
And now you can sleep better knowing Jupiter is keeping its red spot:
Meanwhile …
Inverse Loot
Subscribe to Inverse Loot and learn about these deals first.
That's all for today! Thank you for reading and feel free to share your favorite celestial beings with me at passant.rabie@inverse.com.
Also follow me on Twitter, where I report the latest happenings from our universe.