Method Man, a huge nerd, reveals the Marvel superhero he'd most like to play 
'MARVELS' star Method Man says he'll be "there with bells on" if he ever gets to become a superhero.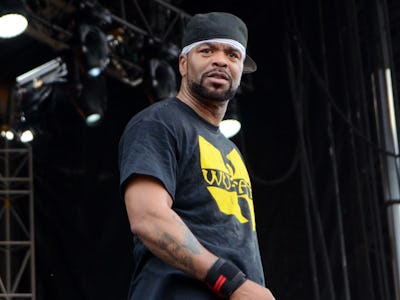 Ricky Bassman/CSM/Shutterstock
Hip-hop legend Method Man, one of the founding members of the Wu-Tang Clan and star of the new Marvel narrative podcast MARVELS, just lost his comic book hookup. Staten Island staple Comic Book Jones, formerly owned and operated by "Mr. Socko" Socko Jones, closed its doors in October.
"I bought my books from the same guy for over a decade," Method Man (real name Clifford Smith Jr.) tells Inverse, a hint of remorse scoring his words through the phone before diving into a discussion about his new Marvel podcast and his Marvel Cinematic Universe ambitions.
"I've always been a Marvel guy, to do anything with Marvel is a kick in the head. — Method Man
It shouldn't be uncanny to know Method Man is one of hip-hop's biggest geeks. The rapper and actor has spent years being open about his love for comics, from calling himself Ghost Rider in his lyrics ("Recognize Johnny Blaze, ain't a damn thing changed") to hanging out at Kevin Smith's Secret Stash. On a recent appearance on Jimmy Kimmel Live, he bragged about his most prized collectible: The Incredible Hulk #181 (first appearance of Wolverine), valued at $5,000.
You may be noticing a pattern here. Method Man doesn't just love comics. He loves Marvel Comics.
"I always felt like Marvel was more grounded," he says. "Not to take anything away from DC, they have fantastic characters and stories, but Spider-Man was in New York. You might come home one day and see him swing over your head. It just made it more grounded and, dare I say, real."
What was Method Man's escapist childhood fantasy is now reality. In MARVELS, a serial podcast based on the 2004 comic now streaming on Stitcher, Method Man plays Ben Urich, a grizzled journalist in 1960s Manhattan. After the Fantastic Four lose a battle against Galactus in midtown, Ben teams up with photographer Phil Sheldon (Seth Barrish) and intern Marcia (AnnaSophia Robb) to unearth a conspiracy involving the extraordinary beings the public calls "Marvels."
"Ben Urich is a skeptic," says Method Man. "He's the kind of guy who doesn't believe anything as is. He has to see it for himself. I guess that's why he's a reporter. You're supposed to be skeptic."
He adds, "Ben's always looking for why things happen. He's observant. He's the best guy for the job when it comes to tracking and reporting on these Marvels, because he's going to give it to the people straightforward."
The second original podcast produced by Marvel and Stitcher, after 2018's Wolverine: The Long Night and its sequel Wolverine: The Lost Trail, MARVELS feels distinctly old school. While the producers and stars of Wolverine told Inverse about the innovative, 360-degree technology they used to record, MARVELS takes after its mid-20th century setting with a more traditional approach: Everyone seated around a "circular" table with microphones.
"It felt like a really intense table read," Method Man says. "It was a new experience. If you close your eyes, you can picture the characters. For me, it's just fun. I've always been a Marvel guy, to do anything with Marvel is a kick in the head."
After MARVELS, Meth's ultimate goal is to star in a Marvel movie. He's previously campaigned for Bishop, a time-traveling mutant, but now he's setting his sights on someone else: Blue Marvel.
"I'm teetering on Blue Marvel now," he says. "I stopped the campaigning, I was told that's unprofessional. I'll just sit and bide my time, and when the call comes I'll be there with bells on."
When I ask what it is about Bishop and Blue Marvel that calls to him, Meth responds bluntly.
"They black," he says. "Yeah, basically. They black."
Growing up in Staten Island, Method Man was drawn to superheroes at a very early age. "Being a creative person, it was a match made in heaven." His childhood was defined by Chris Claremont's X-Men and John Byrne's Wolverine. He came of age when Jim Lee, Todd McFarlane, and more reinvented the superhero wheel.
"We had a comic book club in my sixth-grade class," he says. "After school, we used to make our own books. Been collecting ever since."
"Caucasian kids, they didn't hang out with nerds, but Black communities, some of the hardest dudes loved Incredible Hulk. — Method Mad
Meth kept collecting comics, even when it wasn't cool. Ask any old geek who grew up in the '80's and '90s, before movies like Avengers: Endgame made superheroes mainstream, geeky hobbies like comic books, science-fiction novels, and Dungeons & Dragons were no-go zones that belonged only to the weirdos. Except for Method Man.
"It was never an issue that I read comics," he says. "That's where color lines are drawn. Caucasian kids, they didn't hang out with nerds, but Black communities, some of the hardest dudes loved Incredible Hulk. Never no people look at you like a geek. Only when you try jumping off the roof thinking you're Superman or some shit. The color lines are different. In the Black communities, it wasn't like that. There was no making fun of comic books."
Over the phone, the artist responsible for the 1994 classic Tical sifts through his latest — and hopefully not last — batch of issues from his old pal, Mr. Socko. His rattles off his pull list like name brand watches. X-Men, Ghost Rider, Dead Man Logan, Hit Girl, Hack/Slash, The Batman Who Laughs, Doomsday Clock, and Year of the Villain. He's also reading The Immortal Hulk, an ongoing series destined to become a classic.
"That's starting to get weird," Method Man says, "But I want to see where they're going with it."
MARVELS is streaming now on Stitcher.