21 Clever Things on Amazon That Will Save You at Least $100
These items are worth spending a little on now to save a lot later.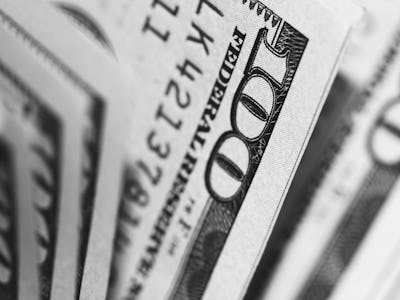 Unsplash / Pepi Stojanovski
When your car breaks down in the middle of nowhere, you have no choice but to pay someone to rescue you. When you have no idea how a toilet works, you are similarly at the mercy of a plumber. When you fly, you have to pay extra if you don't know the hack that saves money.
But sometimes even small mishaps can cost big money, and being prepared by having a small, inexpensive fix can save the day—and save you a small fortune, too.
Here are 20 totally cheap items you probably don't have, but should pick up right away. They will save you money in the long run just because you happen to have them around the house.
Spilled wine or red sauce on your white shirt? You could take that to the cleaners and they might be able to get the stain out. But this Clorox Bleach Pen Gel is a lot cheaper—and often more effective. Just dab the spot with the pen and it bleaches the stain right out, right where the accident happened. (Plus, you get four, so you can keep one with you at all times.)
Add a pair of these insoles to your favorite cheap, canvas sneakers and you'll instantly have a pair of shoes you can walk long distances in without pain. These athletic support insoles turn any pair of flat shoes into athletic shoes, so you can stop spending a fortune on new running shoes just to make your step count.
How much do you spend on bottled water? Fill this giant water bottle with cold water from your filtered tap water at home and stop doing that. Not only will you save money, you'll no longer contribute to the giant plastic island that is destroying the ocean. This 40 oz bottle is vacuum insulated so your ice water will stay cold all day. And it comes with two lid options.
You left an interior light on in your car. Now you're in a hurry and the car won't start. If you have this TACKLIFE T8 Car Jump Starter, then that's not a big deal. In a few minutes, you'll be on your way. But if you don't have it, you'll have to pay for a jump start—and wait for the rescue crew to arrive. If you need this only once, it will pay for itself. (And it'll also charge your phone, so you won't ever be stranded with a dead car and a dead phone.)
The sink is clogged. You tried pouring liquid drain remover down it, and now you have a sink of dirty, noxious water because that didn't work. You could call a plumber and drop $200. Or you could use this $6 plastic drain snake to clear that mess yourself—even before using a bunch of weird chemicals in your sink. It's easy, fast, super cheap, and extraordinarily effective. You get three, so be ready for whatever drain clogs your future holds (and pro tip: wear plastic gloves, and have a garbage bag and some power towel handy for dealing with whatever comes out).
When corn is in season, it's cheap and delicious. But you can't eat corn on the cob every day. This allows you to easily strip the corn kernels so you can make corn chowder or just add corn to salads or stir fries. It will save all that yummy corn and save you from buying countless lunches.
The microwave popcorn you buy in stores is not only expensive, it's full of oils that are terrible for your health. This microwave popper is the solution. You can pop with or without oil, using inexpensive bulk popcorn kernels, in just two minutes in your microwave. It cleans up in the dishwasher and stores easily.
You might be considering putting expensive, custom orthotics in your shoes to counteract foot pain. Try this copper compression strap instead: The band is infused with a high dose of copper, which increases your circulation and nurtures the plantair fascia tissue to reduce pain. You will save a fortune and feel so much better!
Have you been coveting one of those sonic facial cleansers that cost a small fortune? They work wonders on blemishes, exfoliate gently, and keep many skin problems at bay. But they tend to cost upwards of a hundred dollars. Not this one—and it's awesome! It's waterproof, charges in an adorable charging dish, comes with three brushes, and works wonders.
You can stop pouring water into that water-filter pitcher now. This installs under your sink between your water pipes and your cold water faucet. It's easy to install, and delivers five years of clean, filtered, delicious water to your glass with no refilling or management on your part. Over the course of five years, it will save you a fortune—and an uncountable amount of hassle.
Love your Sonicare toothbrush? Dread the cost of replacement brushes? Yeah, we hear that! These are great, and you get 10 of them for $11. That's about the same as the old-school non-vibrating brush. So you can have great teeth (and not be broke).
You lose everything in that dark closet. The stair lighting is dangerously inadequate. And the bathroom lighting is so bright it destroys any hope of going back to sleep if you get up in the night. These will fix all of that for $20. No installation or wiring—and they're motion triggered, so your house will seem to simply know when and where you need light. They will save on your electric bill and prevent hundreds of dollars in wiring. There are six in the package. Enough for your whole house.
When you travel, do you start each day looking for a coffee shop? Not if you travel with this! Put some ground coffee in a zip lock bag. Put this and some filters in your suitcase, and you can make pour-over coffee in any hotel room. It's cheap, makes the best possible coffee, and takes up almost no room in your suitcase. You can use it at home, too, if you are still wasting money buying your coffee in cafes.
Another travel essential: if you drink coffee or tea, this little guy is sized for a suitcase. With it as your travel companion, you need only water to get your coffee or tea going. So no matter what amenities your hotel has, you can have a cuppa without spending any time or money in overpriced cafes. It's cute enough to keep on the counter at home, too.
These great Turkish bath towels will save you a ton of money compared to others. (You get six for under $45.) But they will save you in other ways, too. They dry quickly, either hanging or in the dryer, so you'll have dry towels with less dryer time. And they double as a beach wrap and beach blanket, so they're a great travel companion. Plus, they fold up small, so they'll fit in your suitcase.
Are you using paper towels? Have you stopped to add up how much you spend on that? Get a set of these and use cloth towels instead. They don't add much to your laundry, are much more pleasant to use, and will save you a small fortune over time. (Not to mention being much better for the planet.)
When the temperature drops, it's so tempting to roll out of bed and turn up the heat. But it's much more economical to wrap yourself in a warm, soft robe. You'll stay cozy no matter how cold your space is—and the heat can stay off till you can see your breath. This one's perfect for anyone who likes a more feminine look.
For a more masculine vibe, this is the robe you need. It's warm, looks good on, and feels fantastic. You won't care what temperature the room is when you're in this. And you will save the cost of the robe in just one winter month of not cranking up the heat.
Do you like those dryer sheets that make your laundry soft, nice smelling, and static free? You can save a lot of money—and keep waste out of the landfill—by switching to wool dryer balls. They do a great job, and you can choose your sent by dropping a little essential oil on them before you start the dryer.
It seems counter-intuitive to buy a new suitcase to save money, but hear me out. This size suitcase is large enough to fit everything you need for a week, if you pack carefully. But it's small enough to carry on. And that means you won't pay to check a bag. So that will save you—often—$25 per flight. So this pays for itself with one round-trip ticket. After that, you are earning! Pro tip: Often the airlines will offer to check this sort of bag for free once you get to the gate.
You know it's cheaper to brown bag it for lunch… but making that lunch just never happens. You need the right tool for the job. This bento box style glass container with cutlery in the lid is it. Toss some leftovers, a handful of nuts, and some fruit in the separate sections. You get three of these, so you can make your lunches in advance and grab and go in the morning.