Inverse Daily: Explore the science of fear
Being scared is as old as time, but our understanding of it is ever-evolving.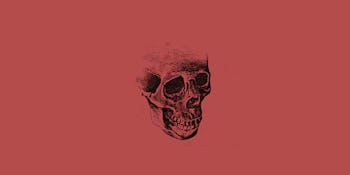 While I wonder if Tim Miller really did pull off a good Terminator movie — read our just-published interview with the director — let's get you caught up on the most interesting science and technology news of the day.
We've got a story about Earth's untouched forests, another on why the heck we love to be scared (Happy Halloween, by the way), and another about the future of electric cars.
I'm Nick Lucchesi, executive editor at Inverse, and this is Inverse Daily.
Before we get started: Thank you to everyone who volunteered to test-drive my "Inverse Reader Research 2020" project. (You were remarkable guinea pigs.) We're opening it up to everyone now. Let me know what you're interested in here.
This article is an adapted version of the Inverse Daily newsletter. Subscribe for free and earn rewards for reading every day.
INVERSE QUOTE OF THE DAY
"You don't get to do much arts and crafts in the rover world."
— Billy Allen, a mechatronics engineer at NASA's Jet Propulsion Laboratory.
Why do you love to be scared? 10 stories explain why 💀
Palms are sweaty, knees weak, arms are heavy.
Ah, the timeless lyrics of Eminem. They are also signs that the body is reacting to danger, either real or imagined. Fear is a vital survival mechanism, baked into our systems since we were cavemen roaming the earth.
But these mechanisms can do more than help us fight or flee: every year, we learn more surprising ways terror — on screen, online, and in our lives — hijacks our brain and bodies.
Inverse has published ten stories about the science of fear that explain why we love to be scared, and even how why it can be good for us.
Read 10 stories on the science of fear →
More for this Halloween:
Google's DeepMind A.I. firm has just conquered another classic game
DeepMind, the team behind the successful AlphaGo A.I. project, has conquered another game.
The team has successfully developed a system that beat 99.8 percent of human players in Starcraft II. AlphaStar, which played the game as all three of the strategy game's races, claimed the title of Grandmaster.
DeepMind, a London-based firm under the same Alphabet parent company as Google, has previously designed A.I. that could improve healthcare systems and drive genomic research. Starcraft II is a complex game, with nearly an octillion possible moves. The team had to use innovative A.I. techniques based around reinforcement learning, avoiding the pitfalls of earlier systems where the system could "forget" what it learned from previous iterations.
It's not solving major healthcare issues, but with this new development, A.I. has just conquered another skill previously the reserve of humans.
More on DeepMind:
It's the last week of the month!
Search your inbox for old Inverse Daily emails that you may have missed to quickly raise your Rewards rank.
In the world's untouched forests, lives the key to fighting climate change
Tropical rainforests protect us against climate change, but we have seriously underestimated just how much they protect us, reports Inverse's Nina Pullano.
New research shows the amount of carbon released into the atmosphere — because it can't be absorbed by the rainforests that have been cut down — is even more than we thought.
The findings suggest that untouched forests, which still have intact ecosystems, are key to fighting climate change. The authors of the new study make a case for environmental protections that specifically cover intact rainforests, both within and beyond the tropics.
More recent research on the rainforests:
Sunday Scaries
Beat the "Sunday Scaries" with a weekly newsletter that mixes soothing science and relatable advice to get your mind & body ready for the week ahead.
Harvard study: Renewable energy could save us trillions in health costs
If you're worried about getting "windmill cancer," we have some good news for you. According to a new study published this week in the journal Environmental Research Letters, installing more renewable energy could save the US trillions in health costs.
Obviously, renewable energy doesn't pollute like fossil fuels do, but this is a fascinating look at the financial benefits of switching to renewables.
The researchers looked at how installing renewable energy like solar power and wind turbines would benefit both the climate and public health. Depending on the US region where renewable energy sources are installed, they found they could save the region between $1.7 million and $2.2 trillion in health expenses.
More recent reporting on climate science:
Researchers have developed a means to charge an electric car battery in just 10 minutes
Researchers have developed a way to charge an electric car battery in just 10 minutes, a breakthrough its developers claim is "the key to enabling widespread introduction of electric vehicles."
The system, detailed in a paper for the journal Joule, explains they achieved this by raising the battery temperature to 140 degrees F to enable higher-speed charging while reducing battery degradation. The team then cooled it down to bring the temperature to more acceptable levels, avoiding any long-term effects from high temperatures.
It bears similarities to a technique rolled out by Tesla earlier this year, which pre-warms the battery to reach charging speeds up to 50 percent faster, albeit only charging a car in around 15 minutes using a 250-kilowatts charger. Surveys show that charge times are one of the major hurdles for people thinking about switching to an electric car, and existing electric car owners cite higher charge speeds as one of their most-wanted features.
Charging a car at a similar speed to pumping gas could make 'range anxiety' a thing of the past. Why worry about whether your car can go 300 or 400 miles if a quick pit stop will take a matter of minutes? As non-electric cars still make up the vast majority of cars on the road, it could be the push that helps bring cleaner technology to the mainstream.
More battery research & news:
Today's Good Thing
Tesla and SpaceX chief Elon Musk has pledged to support the Team Trees project, which aims to plant 20 million trees worldwide by January 1, 2020. The site accepts donations of $1 per tree. Musk has pledged to donate 1 million trees to the project and has changed his Twitter name to "Treelon." Following the pledge, Twitter CEO Jack Dorsey pledged a further 150,000 trees.
The project started in May 2019 when YouTube users pressed YouTube star "MrBeast" to plant 20 million trees to celebrate reaching 20 million subscribers. So far he has donated 8,258,188 trees. The project works with the Arbor Day Foundation to plant and bring the trees to life.
Meanwhile …
Inverse Loot
Subscribe to Inverse Loot and learn about these deals first.
That's it for Inverse Daily today.
If you've got a suggestion for how to make this newsletter better, drop me a line at nick@inverse.com. And follow me on Twitter where I retweet the best of Inverse every day.
P.S. If you're behind on your Inverse Daily Rewards, just search your inbox for any emails that you may have missed. New prizes Friday!