Inverse Daily: The Problem With CBD
A new systematic research review from Mayo Clinic warns there's still a lot to learn.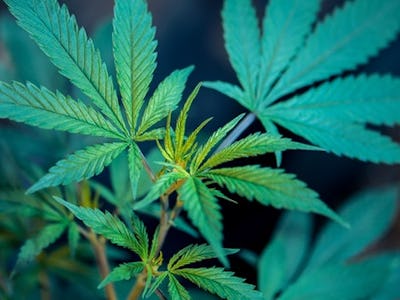 Wha-pop, Inverse Daily fam? While I struggle to tear my eyes away from this very bizarre photo set of birds carrying chicks under their wings, let's get you ready for the weekend.
You're reading an adapted version of the Inverse Daily newsletter. Subscribe for free and earn rewards for reading every day.
INVERSE QUOTE OF THE DAY
"Social media platforms seem to be losing the battle against online hate."
— Physics professor Neil Johnson, Ph.D., who helped model "global hate highways" documenting how online hate spreads across borders.
Sickened by Chicken
A few weeks ago, I was utterly entranced by a video on how to cook jerk chicken, posted to Twitter by Original Flava, the "Caribbean Food Brothers" from the UK. Even more intriguing than the process for making a perfectly balanced marinade, however, was a comment pointing out that the video forgot instructions for washing the chicken. "Ppl out here using soap B," read the Tweet. Yikes!
Whether home cooks should wash their chicken before cooking at all is a long-running point of contention complicated by cultural traditions. Public health officials have insisted that people stop washing raw poultry because they say it can spread Salmonella and Clostridium perfringens bacteria around the kitchen sink. But many people (Julia Child included) insist on it. As Sarah Sloat tells me, all 300 participants in a recent study on raw chicken preparation reported that they wash chicken to "remove blood/slime" or "because that is how a family member does it." After they did so in a test kitchen, 60 percent of the sinks and counters were found to be contaminated with bacteria. The US Department of Agriculture scientists behind the study insist that washing is unnecessary as long as the chicken gets cooked to 165 degrees Fahrenheit.
Find out why this is such a complicated issue.
The more you know:
No Chill
The sheer volume of CBD products available on the market is getting overwhelming. Longtime Inverse readers might recall our essays on CBD seltzer (chill — maybe too chill), CBD topical oil (nightmares!), and CBD dog treats (chill for dogs); the other day we tried a pack of CBD gum (meh). The fact that it's so widely available in so many forms has some experts worried that we often don't know what we're actually consuming. As science fellow Ali Pattillo tells me, scientists at the Mayo Clinic recently warned that nobody knows exactly how effective or safe CBD is.
Part of the reason we don't know is that there simply hasn't been enough clinical research done on CBD to back up the myriad claims made about the drug, like improved sleep, reduced anxiety, relief from chronic pain and even from addiction. Perhaps more concerning than what it doesn't do is what it does do without our knowledge; the Mayo Clinic review raises concerns about its potential for liver damage, mislabeling, and drug interaction. "Because CBD is not controlled, basically, it's anybody's guess what can be in these," one expert said.
Read up on the Mayo Clinic's verdict on CBD.
The more you know:
Gimme Shelter
The relentless arson being committed in the Amazon jungle by human hands is raising the urgency of the climate crisis to an unfathomable degree. Not that the situation wasn't already dire. Earth was consistently breaking historic temperature records well before the green "lungs" of the planet were being slashed and burned by supporters of Brazilian President Jair Bolsonaro. Scientists are not the kind of people who give up, but they are practical folk. And in the case of the climate crisis, some are arguing that humans need to seriously consider retreating.
In the journal Science, climate researchers argue that the climate crisis solutions that have been proposed so far have been too narrow in scope and too reactive to be beneficial in the long term and at large scale. They will eventually not be enough. As Mike Brown reports, the researchers believe "managed retreat" — creating a plan to move entire swaths of the population to secure regions — might be the best way to deal with the consequences of our increasingly warm planet.
Find out where people might have to move.
The more you know:
Musk Reads
Elon Musk is pushing the boundaries of where we can go and what we can do. Don't miss a beat by signing up for Musk Reads, our newsletter about all things SpaceX, Tesla, and The Boring Company.
Move It or Lose It
Some fitness tracking devices are harsher than others. Back when I used to wear it, my Fitbit would gently vibrate whenever I spent too much time sitting still; Emma Betuel's far more intense version tells her that her "fitness status is UNPRODUCTIVE." They mean well. As an increasing number of studies show, sitting still for too long does not only an ineffectual person make; it also raises the risk of death.
Mortality risk is a bit of a funny concept that researchers use to assess harm. Sure, we're all going to die, but increased mortality risk means you might die sooner than statistics predict. As new research from Norway shows, having 10 hours of sedentary time each day is associated with a 48 percent increase in mortality risk. The good news is that it's easy to change old habits. The researchers also found that just 300 minutes of light-intensity exercise daily — like walking — could offset the risk of early death by as much as 50 percent.
Discover why being inactive is so dangerous.
The more you know:
Climate Clash
Nothing says Feisty Friday like a good Elon Musk beef. Today, we're talking about his ongoing feud with the government of Singapore, the city-state that does not want anything to do with his electric cars despite his insistence that they can help solve the climate crisis. He's not entirely wrong: Road transport accounts for 16.5 percent of emissions, and going electric could help reduce that number.
But Singapore's government is wary that Musk's vision is more of a "lifestyle" than an actual climate change solution. Officials have already stated that they're more interested in improved public transportation as an alternative. Upping the ante on an increasingly heated tiff this week, one official said: "We are interested in proper solutions that will address climate problems." Damn!
Here's why Singapore thinks public transit is a far better solution than a fleet of Teslas.
The more you know:
Today's Good Thing
Today, that's the scientists at the Florida Aquarium, who have coaxed Atlantic Ocean coral into spawning in a laboratory for the first time. In the wild, these effects have suffered as the climate crisis has warmed local waters, but this breakthrough opens up a path for recovery.
Meanwhile …
Inverse Loot
Subscribe to Inverse Loot and learn about these deals first.
Thanks to everyone who wrote to share their thoughts on how to save the Amazon. Stephen H. said it's up to citizens to pressure their government: "We vote with our feet and with our principles."
Deb G. offered a more insouciant take: "I think Trump should insist that the USA buy it and build a wall around it and that will stop the fires."
Thoughts on how to prepare chicken safely? Send me your thoughts and recipes at yasmin@inverse.com.
Cookin' up a chicken, wash my hand off with soap,
— Yasmin