Electric Car or Mass Transit? Tesla and Singapore Clash Over Climate Change
A battle of visions is playing out in south east Asia.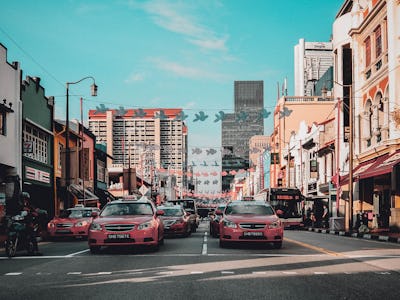 Unsplash / Lily Banse
What does the future of transportation look like? For Elon Musk, it's electric cars. For the Singapore government, it's public transportation.
The Tesla CEO has been locked in debate with the city-state over its lack of support for electric vehicles. Musk declared in May 2018 that the government is "not supportive of electric vehicles." In January, he stated that Tesla is not in Singapore because "govt has been unwelcome."
On Wednesday, Singapore's environment and water resources minister Masagos Zulkifli upped the ante, telling Bloomberg that the government was more focused on buses and trains. He added that "what Elon Musk wants to produce is a lifestyle. We are not interested in a lifestyle. We are interested in proper solutions that will address climate problems."
It's a strong dismissal of Musk's plans, particularly as the CEO claims his drive to electrify cars comes from his belief in addressing climate problems. But Zulkifli is not the only person to question whether electric cars in cities are the ideal solution to the planet's rising temperature. As Tesla and Singapore exchange words about the best solution for the 280-square-mile country, it raises an important question: could public transport provide a better solution?
Electric Cars Vs. Public Transit: The Singapore Debate
Singapore, with its population of over 5.5 million, is the second-most densely populated country in the world behind Monaco. That presents unique challenges in the use of space, particularly around transport.
The country places strict limits on vehicles to avoid chaos on the roads. The BBC reported in October 2017 that the Land Transport Authority issues car ownership licenses on a 10-year basis. In February 2018, it froze the issuing of new licenses for private vehicles to manage numbers. Because of these policies, only around 10 percent of the population owns a car versus 80 percent in the United States, and a midsize car is nearly four times more expensive.
"If there's any country which can convert from petrol cars to 100 percent EVs, it will be Singapore," Zulkifli said, citing the car ownership licenses as a potential tool that could force a mass shift.
It sounds restrictive, but by some measures, Singapore is actually already very car-friendly. There are one million vehicles on its roads, 600,000 of which are privately-owned vehicles including ride-hailing services. Around 12 percent of the country's land is roads, a much higher proportion than other countries. It's the 55th most congested city in the world according to a 2017 survey.
The government is instead focusing on a policy of improving mass transit. The goal is that by 2040, no single trip will take longer than 45 minutes. Singapore has hosted projects like the Volvo autonomous bus, which contains 36 seats and can drive using a computer. Another idea is the flying taxi, which the government detailed in 2017 as a potential future option for mass transit by 2030.
But while the government has focused on public transport, the streets are filled with pollution-pumping gas vehicles. Statistics from November 2018 showed that 92.7 percent of private cars were gas-powered. Just 0.08 percent, or 466 cars, were all-electric, and a further 0.06 were plug-in hybrids. By comparison, five percent of cars sold globally last year were either plug-in hybrids or all-electric.
Zulkifli stuck to his position that electric cars are not the answer: "Just choosing a parking spot is already problematic, and now you want to say who gets the charging point. We do not have the solution yet."
Charging is perhaps rather low down on the list of concerns around electric cars in Singapore. In a report that criticized Musk placing the blame on Singapore for low adoption rates, Straits Times reporter Christopher Tan noted that a Tesla comes with enough range to traverse the island 10 times over before recharging.
Electric Cars Vs. Public Transit: Are EVs Always the Answer?
In terms of fighting climate change, Musk is not misguided in his efforts. Road transport accounts for 16.5 percent of global emissions, meaning there's a clear benefit to electrifying this mode of transport and transitioning the power source onto a renewable alternative.
Experts have previously warned about how mass transit may prove a better strategy than private electric car ownership in a big city. The University of Oxford's Centre for Research into Energy Demand Solutions warned in a report last month of "the combined effects of continued car dependency leading to more urban sprawl, inactive lifestyles and congestion together with the lifecycle impacts of vehicles and batteries, charging infrastructure, and road and car parking capacity."
Even Norway, hailed as a success story for electric cars, has its critics that claim the government's pro-EV policies have encouraged people to use cars for their transport. A 2009 study found that over half of people that don't own an electric car use public transport, walk or cycle to work. That figure dropped to just 14 percent for electric car owners.
"With all the social costs related to car driving, especially congestions and accidents, I am not happy for this policy," Bjart Holtsmark, a senior research fellow with the country's official statistics producer Statistics Norway, told Inverse in October 2018. "Instead the subsidies and resources should have been given to electric bikes and infrastructure for bicycling."
There are signs that Musk is aware of the issues surrounding car ownership in cities, with his plans to unveil a fleet of autonomous robo-taxis as an alternative to owning a car. However, transport experts have noted to Inverse that it could create more traffic and make cities even more congested.
As commentators call for the end of car ownership in cities, and those cities introduce stricter congestion charges even for electric cars, encouraging everyone to buy a Tesla may not be the best answer to city congestion.
But even in the case of publicly-accessible mass transit, cities will need to shift toward some form of zero-emissions alternative than the polluting vehicles that clog the streets today.