Mayo Clinic Scientists Raise Concerns About CBD's Unexplored Risks
"I think it's really too early to just try anything that you get at the gas station."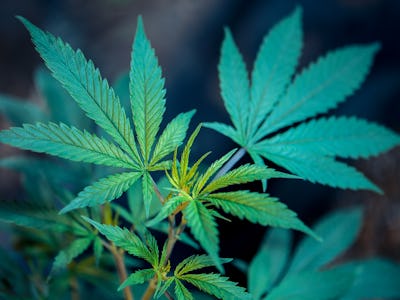 Unsplash / Roberto Valdivia
CBD is in everything — oils, lotions, drinks, gummies, sprays, dietary supplements, even puppy tinctures and mascara. It doesn't get you high, but anecdotal evidence suggests it may make you feel better. CBD enthusiasts report pain relief, less anxiety, greater relaxation, better sleep, and reduced inflammation, and some evidence suggests it may even help curb opioid addiction and weight gain during HIV infection, improve nausea during cancer treatment, and help treat sleep disorders and Tourette syndrome.
But a new systematic research review from Mayo Clinic, one of the country's leading medical centers, warns there's still a lot to learn about CBD.
The big takeaway from the review is that no one knows exactly how effective or safe CBD really is. The researchers argue that more research on humans is needed to confirm many of the health claims made on the packaging of products containing CBD, short for the Cannabis-derived compound cannabidiol.
"I think it's really too early to just try anything that you get at the gas station," Karen Mauck, M.D., co-author on the Mayo Clinic Proceedings journal and internist at the Mayo Clinic, tells Inverse. "Unless you're a much more educated consumer getting it from these medical dispensaries, I think it's too early to really take them for any sort of therapeutic effect right now."
CBD Confusion
Choosing a high-quality CBD product can be hard. The laws and regulations around the substance are confusing and conflicting, and it is regulated differently at the state and federal level, which complicates decision-making for consumers and physicians.
"Because CBD is not controlled, basically, it's anybody's guess what can be in these.
One of the concerns about CBD products is that there may be other substances at play. No rigorous safety studies have been done on "full spectrum" CBD oils, which contain a variety of compounds found in the hemp plant and not just CBD.
"Because CBD is not controlled, basically, it's anybody's guess what can be in these. And so they can claim that it's 30% cannabidiol and otherwise pure. But if it's not independently tested, it may have other pesticides, toxins, heavy metals," Mauck says.
It's hard to know exactly what you're getting. A 2017 review of 84 CBD products published in JAMA found that only a third of the products accurately labeled CBD and THC levels: most over-labeled CBD and under-labeled THC.
Despite these challenges, Mauck stresses that it's important for health professionals to be as current on the research and developments as possible. She and her co-authors designed the review to be a clinical tool to help physicians more effectively advise patients on CBD use.
"Oftentimes, the reflex is to say, 'Well, I don't know about that, but I've heard it isn't safe.' or say, 'Oh, I'll wait until I hear it's safe,'" Mauck says.
But sometimes patients are desperate and curious about the miracle claims they see online regarding CBD. "They want to know, 'Well, what do you mean by that?" she says. "Is it 'Absolutely I shouldn't try it,' or 'Try it at my own risk, and what are those risks'? They have those questions and they're looking to us to answer those things."
Knowns and Unknowns
The only thing we know for sure is that purified CBD can help children and young adults with two forms of particularly rare and brutal treatment-resistant epilepsy called Dravet syndrome and Lennox-Gastaut syndrome (LGS). In June 2018, the FDA approved Epidiolex, a purified CBD oral solution for patients with these conditions. Patients reported drastically lowered seizures, and in some patients, the seizures stopped completely.
But for conditions like depression, anxiety, migraines, and insomnia, only preclinical and pilot studies have been conducted, the Mayo Clinic review found. Most studies have been done on rodents, not humans, so there is not enough evidence to make concrete medical recommendations.
This preliminary research is promising, showing potential anti-inflammatory effects and suggesting CBD may improve sleep and reduce anxiety. The research also suggests the potential to block pain receptors and even change the reactivity of the amygdala, two developments that may have important implications for addicts and people with chronic pain. With a population grappling with the opioid crisis, alternative treatments to break the cycle of addiction are eagerly hoped for.
The review also looked at potential negative effects. The review found potential risks of CBD — liver damage, mislabeling, and drug interaction. Anecdotally, patients also report side effects of weight loss, diarrhea, and dizziness from CBD use, Mauck says. But potential side effects depend on how and how much you take in. Inhale CBD, eat it, or spread CBD lotion on your body, and the effects can vary.
Snake Oil or Miracle Cure?
The Mayo Clinic review emerged after Mauck and her Mayo Clinic colleagues were barraged with questions from patients about the safety and efficacy of CBD. Other patients weren't consulting their doctor about CBD at all.
"Often, patients get the 'poo poo' for anything that's natural.
"A lot of times patients won't even bring this up because they think, 'Oh, my doctor will just blow it off and they won't take it seriously," Mauck explains. The Mayo Clinic review is intended to provide health professionals with working knowledge to better advise their patients.
"Often, patients get the 'poo poo' for anything that's natural," Mauck says. "Or sometimes if it has not been proven or FDA approved, people say, 'Oh, that's just snake oil, that doesn't work, forget about it.' But I think patients want to know that their physicians at least are interested in some of these things and can advise them."
The Mayo Clinic encourages physicians to keep "a clinical curiosity and a healthy skepticism" about CBD. Even though the FDA hasn't approved any CBD or hemp oil products, besides the purified CBD oil for epilepsy, patients continue to ask for and use CBD products to self-medicate. As the CBD market explodes, more and more people are likely to try it. It's crucial doctors remain informed and confident in guiding patients to use or not use CBD.
Wading through CBD
Even though CBD is legally and medically murky, consumers can take a few strategies to minimize risk. Scrutinize labels, buy organic, and purchase from a certified medical dispensary or company that has a certificate of analysis. This certificate means an independent lab has studied the product and certified what it does and does not contain. Find out how and where the hemp plant from which the CBD product is derived is grown, Mauck says. Make sure it is grown legally and not from a foreign source.
But again, the flimsy regulations and conflicting laws around CBD can make it hard to ensure that your CBD product is high quality. "It's hard, because on the Internet, it's difficult to try to get all this information and figure out all of these things. And the FDA and others can't close these false claims down fast enough," Mauck says.
Ultimately, everything we do comes with a risk, Mauck says. With time and more research, the potential risks and benefits will become clearer.
"I guess it depends on how desperate the patient is or how risk averse they are or not, you know?" she says. "If it were me or my family, I would say it's a little too soon to tell; I wouldn't try this right now. It's exciting and I think there is something to it, but you just have to wait and see."