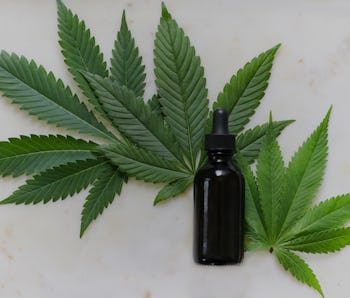 Mind and Body
Our Favorite CBD Products
NutraCanna aims to be your comprehensive online CBD retailer.
Unsplash / Kimzy Nanney
If you've been alive at any point this year, you've more than likely been bombarded with the surging popularity of CBD. Cannabidiol, often abbreviated to just CBD, is pretty much what we've been referring to as hemp for the last 20 years. It has no psychoactive components, meaning it will not get you high, but many people have found relief for their most debilitating symptoms—including but not limited to insomnia, anxiety and chronic pain—through frequent use.
The science behind its efficacy has been left up to much debate, but anecdotal accounts are plenty. Friends of mine who have struggled to cope with their symptoms have found certain relief in the many forms of available CBD products and including myself, I've found a reduction in my own symptoms, including but not limited to pain associated with years of bodily wear and tear through sports.
Curious? These are our favorite products from NutraCanna.
For Sleeping Better
Why We Picked It: With the exception of my partner and his sleep-gifted family, I've never met anyone who has an easy time falling asleep and staying asleep. For those who struggle to sleep and have already tried everything, this dissolvable sleep aid tablet combines Melatonin and CBD to create an easy-to-use sleep remedy that will help you fall asleep easier and sleep soundly throughout the night.
For Pain Relief
Why We Picked It: If you've found yourself dependent on some form of ingestible pain relief, like Advil or Tylenol, combined with consistent use of something like Icy Hot, I've been there with you. Topical CBD pain cream has been the only thing to date that has provided me with immediate relief that lasts. This pharmacist-formulated blend of everyone's favorite holistic remedies includes arnica and mental to provide a deep and soothing relief to your most uncomfortable aches and pains.
For Anxiety, Pain and More
Why We Picked It: If you find yourself struggling with anxiety or regular aches and pains, these conveniently cute 15 mg CBD gummy bears are both a great snack and remedy for anything that gets in your way. Formulated with organic and all-natural ingredients, these gummy bears are made to be a discreet way to consume a moderate dose of CBD as part of your regular routine.
For Anything You Want
Why We Picked It: Sublingual—meaning under the tongue—oils are the most immediate and effective way to consume CBD products. This oil can be placed under the tongue like so or you can apply it directly to your skin topically or you can use it as an additive to your tea, water, coffee and more. Each dropper full of oil is 67 milligrams of CBD suspended in organic coconut oil so that you can conveniently dose and regulate your consumption every time.