Musk Reads: Tesla Solar Roof Version 3 Coming
Plus, The Boring Company's D.C. route gets detailed and Tesla's robo-taxi draws closer.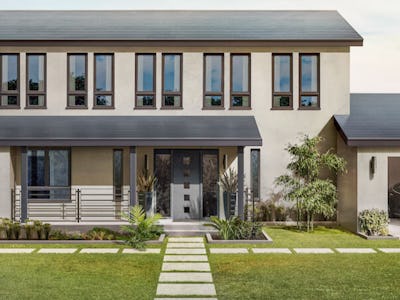 Tesla
Tesla's solar roof gets a third version; SpaceX's Mars colony could be humanity's best shot at a new economy; and The Boring Company's DC route gets detailed. It's Musk Reads #75.
And keep your eyes peeled for a special Musk Reads after Tesla's earnings report on Thursday!
A version of this article appeared in the "Musk Reads" newsletter. Sign up for free here.
Musk Quote of the Week
"Coming soon."
Tesla
Tesla has developed a third version of its solar energy-harvesting roof tiles, Musk announced on Monday. The company's clean energy product has made big headlines since limited installations first started over a year ago, and Musk's latest comments suggest Tesla will start shipping tweaked versions of these tiles to more customers. Keep reading.
Tesla's robo taxi plan came to life this week, as Musk unveiled his plans for full autonomous driving. It's been a long journey to reach this stage, but Musk struck a confident tone as he explained how the existing global fleet will power even smarter neural networks, an approach that makes for much better data than running simulations in a lab. Tesla is not stopping there, with plans underway for the next self-driving computer. Musk is predicting that the company will have 1 million full self-driving cars on the road by mid next year. Read more.
What's next for Tesla: Tesla is set to release its first quarter earnings at 2:30 p.m. Pacific on Wednesday.
More Tesla Reads From This Week
SpaceX
The space-faring firm faced trouble this week as footage went viral of its Crew Dragon capsule failing a test. The capsule is designed to enable NASA to send astronauts into space from American soil, reducing the need to rent seats on Russia's Soyuz rockets. The incident comes one month after the "Demo-1" launch that sent up 400 pounds of cargo to the International Space Station. Read more.
What's Next for SpaceX: SpaceX is continuing work on its orbital Starship prototype, with an expected unveiling in June.
Photo of the Week
Bunny mode?
The Boring Company
Another set of municipal documents has emerged which shed light on the Boring Company's plans to help major cities modernize their transportation systems. The new documents, last week, reveal that the proposed "loop" connecting Washington DC and Baltimore would be initially capable of transporting around 1,000 people per day. Read more about a DC Loop.
The Ultra-Fine Print
This has been Musk Reads #75, the weekly rundown of essential reading about futurist and entrepreneur Elon Musk. I'm Mike Brown, an innovation journalist for Inverse.
Sponsor Musk Reads and get your business in front of a brainy, curious audience that's motivated to make the world a little better tomorrow.advertising@inverse.com.
Email me directly at mike.brown@inverse.com and follow Inverse on Twitter @inversedotcom. Follow me on Twitter @mikearildbrown.
A version of this article appeared in the "Musk Reads" newsletter. Sign up for free here.