Apple Car: Release Date, Price, and Features for the Secretive Project Titan
Apple is getting ready to hit the road.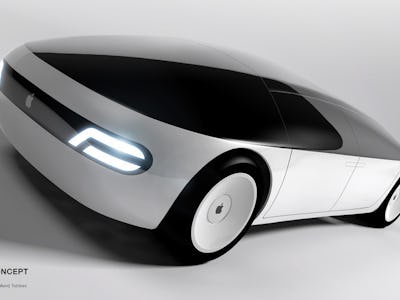 Aristomenis Tsirbas/Freelancer
Apple is slowly gearing up to hit the road. The iPhone maker has long been rumored to be eyeing the same emerging self-driving car market that companies like Tesla and Uber have chased for years. But despite recent news of layoffs at the secretive program, other reports have suggested that Apple is already in the process of lining up suppliers for one of a would-be self driving car's most crucial components.
Apple's secretive autonomous car initiative is known as "Project Titan" and is arguably already a major player. Between December 2017 and last November, Apple amassed a fleet of 62, self-driving test vehicles, the second-most test vehicles out any of the 21 companies that provided those figures, a field that included legendary auto makers like Mercedes, Nissan, and BMW.
Published research and a handful of patents have also shed light on the program, which is working to apply the company's considerable resources in both artificial intelligence and augmented reality to develop the automobile of the future. While the project is secretive, and there have at times been mixed signals about its future, Apple CEO Tim Cook has confirmed its existence, declaring in a June 2017 interview that it was "the mother of all A.I. projects."
"Autonomy is something that's incredibly exciting for us, but we'll see where it takes us," Cook told Bloomberg in June 2017. "We're not really saying from a product point of view what we will do but we are being straightforward that it's a core technology that we view as very important."
A few months later, a Lidar-equipped prototype of Apple's car was spotted on video. But despite this early sign that the project was making progress, it appears that the actual launch is still several years away. The noted analyst Ming-Chi Kuo has suggested that Apple will launch whatever becomes of Project Titan somewhere between 2023 and 2025 at the earliest.
Project Titan Key Hires
Some recent hirings have gotten thrust the initiative back into the spotlight. Most recently news broke that Apple had lured the famous computer scientist and A.I. thought leader Ian Goodfellow to its Special Project Group this month, reported CNBC. Goodfellow is credited with the creation of generative adversarial networks (GANs), a machine learning technique capable of generating hyperrealistic imagery, and is one of the most high profile people in the field (at Google, his annual salary was said to top $800,000).
It's not clear what, exactly, Goodfellow could be working on, but it's worth noting that some other researchers have used GANs to train self-driving cars. Goodfellow, known sometimes as the "Ganfather," has a specialization that would clearly benefit Apple's automotive venture.
The company also hired away Michael Schwekutsch, a top Tesla engineer. He was the Tesla VP overseeing electric powertrains, and now at Apple, he is the senior director of engineering at the Special Project Group. Apple has also hired a notable Tesla designer, Andrew Kim, who has been at Apple since December.
A recent series of layoffs cast some doubt on Apple's autonomous car plans, and Apple has a reputation for occasionally cancelling projects that aren't seen as living up to Apple's standards, even if its leadership has publicly talked about what's in the pipeline.
Egil Juliussen, research director for IHS Markit, tells Inverse that Project Titan could still make it in time under certain conditions.
Project Titan: Potential Release Date
Juliussen believes that the deadline set forth by Kuo can only be achieved if Apple were to hop on the ride-hailing bandwagon. He expects that by 2023 to 2025, companies like Uber and Lyft will have deployed self-driving "robo-taxis" in 15 to 25 major cities. These vehicles are expected to be "Level 4" on the Society of Automotive Engineers (SAE) scale for autonomy, which means they still have a manual override but should be able to handle themselves even in dicey traffic situations.
The most profitable play for Apple would then be to start its own ride-hailing service, which could come built right into the iOS Maps app. But it could also sell its self-driving tech to companies that already have taxi infrastructure.
"[That] timeline is only feasible if the application is driverless ride-hailing or robo-taxi using SAE [level 4] technology," Juliussen tells Inverse. "This means Apple would compete with Waymo, as well as Uber and Lyft. Apple could possibly be a software supplier to ride-hailing companies."
Juliussen does not see development of personal, self-driving cars starting until at least 2026, and commercial availability will be even further down the line.
Project Titan: Potential Pricing
It's likely that Project Titan will be the backbone of a ride-hailing service from the get-go. That means prices will depend on where users take a ride and how long the ride is, just like Uber and Lyft pricing.
A personal Apple vehicle will vary depending on the type of car the company decides to sell, its features, and factors that aren't quite clear yet because Project Titan is still in its development stages.
Kevin Clark, CEO of self-driving car tech company Aptiv, told Insurance Journal he estimated the cost of a self-driving hardware and software package to range between $70,000 to $150,000.
Project Titan: Will There Be Hardware?
Reports about whether Apple will bring a new car model to market or if Project Titan will simply be an autonomous vehicle system have been mixed. On April 17, Reuters reported that the company was in talks with at least four companies to supply their lidar sensors for its upcoming self-driving car. Apple's current fleet of prototype cars are mounted with units from Velodyne Inc. but that could change in the future.
The anonymous sources in Reuters' reporting stated that Apple is demanding a "revolutionary design," from the unnamed suppliers. This could suggest that the company wants to sell a line of its own specialized sensors that consumers might be able to retrofit their cars with. Lidar technology bounces laser pulses in a field of view to create an image of the surrounding environment, which provides data for a car to autonomously navigate a road.
A February issue of the German publication Manager Magazin claims that Project Titan engineers will go many steps further than just a lidar system. The publication reported that employees have created an electric van prototype with black and silver paint choices, "designed in the typical industrial design of the iPhone."
The report went on to say that Apple is also developing "batteries, electric motors, special seats and interior components." Based on Apple's past product releases, Juliussen believes that software will be Project Titan's focal point. But based on the company's product releases, he wouldn't put it past the design giant to be developing hardware to complement its self-driving car system.
"It looks like Apple's Titan project is now focused on developing an AV software platform," he said. "But it would not be surprising if Apple also included an AV hardware platform built mostly on chips from Nvidia, Intel, and others. Apple has always been great at software-hardware integration, and this would be an advantage for AVs, too."
To make this a reality, Apple will initially need to partner with automakers or ride-hailing services to get vehicles to rapidly adopt its self-driving car software. Establishing a supply chain to manufacture its own vehicles could take years, so the company has inked deals with established companies.
"The strength is that Apple is very good at producing [software-hardware] integrated systems, and this should carry over to AV systems," said Juliussen. "The weakness is that Apple would need to cooperate with major companies such as auto manufacturers and/or ride-hailing operators, which has not been an Apple strength in the past."
Project Titan: Specs
Apple has consistently retrofitted its iPhones and iPad with top-of-the-line internals to set its products apart from its competitors. The iPhone XS and the 2018 iPad Pro came with the A12 Bionic and A12X Bionic chipset, respectively. Both 7-nanometer chipsets come with dedicated neural network hardware and can perform trillions of operations per second.
Juliussen anticipates that Project Titan will receive similar components, allowing Apple's AV platform to make complex, split-second decisions while on the road.
"Hardware integration could include key sensors, accelerator chips for deep learning, and neural networks, and the computers to run sensor fusion and AV driving software," he said. "Apple may develop their own [deep learning-neural network] accelerator chips."
Project Titan: Advanced Headlight System
A series of United States Patent and Trademark Office filings has shed light on the kind of features Apple is thinking about offering with its vehicle. The most recent one hinted at a sensor-enabled headlight system that could be capable of detecting and illuminating objects from 180 feet away. Plus, a near infrared sensor that could pick up on road obstacles 600 feet in front of the vehicle.
These patents line up with 2018 filings suggesting Project Titan could use artificial intelligence and facial recognition to prioritize illuminating specific areas to help drivers spot street signs and pedestrians.
Project Titan: A Car Designed in California Will Have a Sun Roof
Apple's self-driving car could also include a sun roof. A patent published by the USPTO depicted 17 possible designs for Project Titan's future sun roof. Most variations use a sliding mechanism that opens up the roof like a hatch.
Project Titan: Augmented Reality Features
Apple has also been refining its augmented reality technology recently and reportedly plans to release a couple of products that could be centered around AR, including potential features for Project Titan.
The company currently offers ARKit to iOS developers, which will allow them to develop apps and tools using the tech for iPhones and iPads. The 2019 iPhones are also expected to come with a specialized camera that would allow them to implement AR in ways no other smartphone has done.
Finally, Kuo predicted Apple would launch a pair of iPhone-enabled AR glasses and that Project Titan's might come with AR displays, riffing off of the glasses' capabilities. This would mean the car's windshield and windows could act like an interactive tablet, indicating points of interest and road information.
AR applications like these were debuted at CES 2019. Apple could develop their own take on this kind of tech over the next four to six years just in time to make it a major selling point for their futuristic vehicle.