Apple Is Quietly Testing a Huge Number of Autonomous Cars in California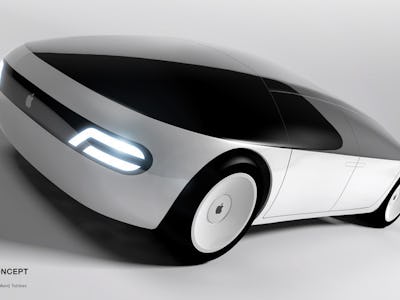 Aristomenis Tsirbas/Freelancer
Apple has been putting a fleet of autonomous cars through its paces on the streets of California. The state's Department of Motor Vehicles released its latest stats on self-driving car testers, which reveal the company has sent a large number of cars out onto the road — with somewhat mixed results.
The results show that, from December 2017 to November 2018, Apple had 62 autonomous test vehicles on the road. That makes it the company with the second-most number of test vehicles out of the 21 companies that provided those figures, beating out big names like Mercedes, Nissan, and BMW. Only GM Cruise, with 162 cars on the road, ranked higher. A further seven companies, including Waymo and Tesla, did not disclose the number of test cars. The reports went live for a short period at the start of this week, during which time The Last Driver License Holder was able to grab the figures, and the state is expected to re-release the figures later this week.
Apple's car initiative, reportedly titled "Project Titan," has taken a rather curious path in its development. While the firm normally holds off announcing any projects before they reach market, CEO Tim Cook declared in June 2017 that autonomous systems are "the mother of all A.I. projects." The first glimpse of a lidar-equipped Titan car was caught on video in October 2017. Research and patents point to an advanced system that merges Apple's A.I. and augmented reality talents into the new car. Analyst Ming-Chi Kuo has suggested that Apple could launch a car somewhere between 2023 and 2025.
While Apple has a large number of cars on the road, it seems each car is only driving a small distance before a human takes over. Apple's cars drove 1.1 miles on average before a disengagement, the worst out of all companies with supplied figures and well behind first-placed Waymo, which drive 11,154 miles per disengagement. Apple drove 79,745 miles in total over the period, around four percent of the total 2 million reported miles from all firms, while Waymo's 1.3 million miles accounted for just over 63 percent of total reported miles.
These disengagement reports, while mandated by the state, have drawn criticism due to the lack of clarity around what constitutes a disengagement. A leaked report from Uber's tests in Arizona showed a human took over every 0.67 miles in one stretch of road. A spokesperson told Inverse in March 2017 that the company's report covered all disengagements, not just emergency takeovers for safety purposes, and may not accurately match reports from other firms.
It seems Apple is not resting on its laurels when it comes to its next major project. Just as long as it integrates with the iPhone.