The Boring Company: Docs Show DC Route Will Support 1,000 Daily Riders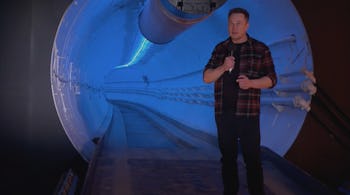 The Boring Company
Another set of municipal documents has emerged which shed light on Elon Musk's Boring Company's plans to help major cities modernize their transportation systems. The new documents, released Wednesday, reveal that the proposed "loop" connecting Washington D.C. and Baltimore would be initially capable of transporting around 1,000 people per day.
The United States Department of Transportation released a draft environmental assessment Wednesday which provided these new details about the firm's 35-mile tunnel. The project includes plans to construct stations in Baltimore and Washington, D.C., two main artery tunnels, up to 70 ventilation shafts, and maintenance tunnels. As founder Elon Musk explained when he unveiled the company's 1.14-mile test tunnel in Hawthorne, California, the tunnel will support autonomous electric cars fitted with guide wheels moving up to 150 mph.
"The publication of a draft environmental assessment for this unique project demonstrates the Department's commitment to preparing for the future of transportation across all modes," Secretary of Transportation Elaine L. Chao said in a statement.
On page 61 of the document, it reads (emphasis added):
The Washington, D.C. Loop Station has a small footprint and would be used to accommodate approximately 1,000 passengers per direction per day. Therefore, upon construction of the proposed Project, the system would only support 1,000 riders per day per direction, with additional capacity potentially added later through the construction of additional Loop Stations.
The document goes on to note on the same page that "the Loop Main Artery Tunnels are designed to transport more than 100,000 daily riders per direction per day, with the variation based on the final, and currently unknown, layout and quantity of intermediate Loop Stations."
It's not the first time the company's plan has come under scrutiny. At the time of the tunnel's unveiling, Inverse noted* the company claimed its system would support 4,000 vehicles per hour. The Tesla Model X shown in the company's literature offers up to seven seats, meaning it could theoretically move 28,000 people per hour. The London Underground, by comparison, holds around 1,000 people on each train, and with some lines operating 36 trains per hour can theoretically move up to 36,000 people per hour.
Musk founded the company at the start of 2017 to solve traffic congestion in Los Angeles. The company claims its initial tunnel cost $10 million to make, far lower than the $1 billion per mile normally associated with public projects, thanks in part to more efficient tunneling and a smaller construction that's only 14 feet wide. Musk claims the idea could solve the induced demand issue with building new roads as a city can simply add more tunnels and dig further down.
The response from cities has been mixed. Chicago has reacted warmly to the idea and has been exploring a loop to connect the airport to downtown, while Las Vegas is planning a system for its convention center. Virginia officials, however, dismissed it as a "car in a very small tunnel and talks with New York didn't appear to get very far.
Members of the public have 45 days from the report's publication to share their thoughts and respond.
The Boring Company did not immediately respond to Inverse's request for comment prior to publication.