There Were 3 Reasons Elon Musk's Boring Company Didn't Come to NYC
Getting to the airport in NYC almost got a lot less miserable, though local engineers had concerns.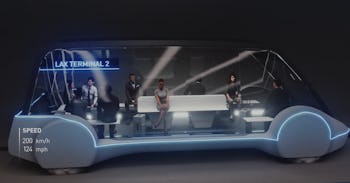 The Boring Company
Though it's only about 16 miles from Times Square, getting to John F. Kennedy International Airport from the city it serves remains a bit of a nightmare.
If you spring for the $52 (plus tip) cab ride, it'll still take you more than an hour. The subway system is a little faster, but can't get you there on its own, requiring a $5 monorail transfer to polish off the trip. It's little wonder, then, that like Chicago, city officials in New York reportedly reached out to Elon Musk's Boring Company to see if a Loop-like system might be a feasible replacement
Unfortunately, the concept discussed does not appear to have advanced much farther than an exploratory conversation, according to the juicy new report from Bloomberg.
There were three main problems city engineers identified, according to Bloomberg's story, which cited an individual who had reviewed engineers' findings.
1. Conflicts with existing infrastructure
For one, officials were concerned that tunneling would present too many potential conflicts with existing city infrastructure (there is, after all, a reason the existing transportation relies on a monorail to complete the trip.)
2. Ventilation issues
Getting fresh air into tunnels and toxic air out of them has historically been a major focus for NYC public transit, but the report notes that it was seen as as problem that contributed to derailing the tunnel system. Perhaps Tesla's Bioweapon Defense Mode could be put to use.
3. Emergency response
Anyone who has been stuck on a NYC subway because of "police activity" knows the delays it can cause. The idea of a Boring Company Loop system — its high speeds and frequency of travel in mind — being served by the NYPD or FDNY in the event of an emergency is a one that hasn't often come up in public forums, either in LA or Chicago, where the Boring Company has had discussions.
It's a bit of a drag, as the report also states that the discussion didn't proceed far enough to result in anything close to a fleshed-out proposal.
It's not the first time politicians in the Big Apple have reached out to one of Musk's endeavors to consult on ways to improve the city's crumbling, aging infrastructure that made me late for work no fewer than three times this week. Back in January, Tesla somewhat surprisingly found itself drawn into the biggest controversy in local news.
As you may recall, the twist came at a news conference on the part of New York Governor Andrew Cuomo to announce that the state would no longer proceed with a refurbishment project that would have required shutting down one of the city's most important transit lines for more than a year. Seemingly out of nowhere, Cuomo told reporters at a press conference that he had "called up Tesla" to get their input on the project. It's not clear Tesla was able to help on that project, either.
It's not all that big of a referendum on The Boring Company. As Bloomberg's report notes, engineers have been trying to figure out a way to create a new transportation line connecting the city with its international airport since the 1960s. The proposal was reportedly similar to the one planned for Chicago, and would have featured two tunnels, one in-bound and one-outbound, that would run something similar to the Loop systems Musk unveiled last December.
Other cities are still in the running to be the site of the The Boring Company's next big municipal project. Just last week in sunny, less-population-dense California, the Mercury News reported that city officials there are investigating the potential to link Mineta San Jose International with the city center, a distance of 3 miles.