Top 10 Consumer Tech Devices for the 2018 Holidays
There are tech bangers for every gadget geek in your life.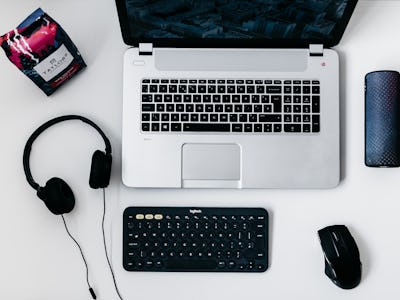 Unsplash / Ionut Necula
October has seen a torrent of consumer tech debuts that would make any gadget geek lunge for the nearest USB charging cable. Huawei launched its beastly Mate 20 Pro smartphone, Google released the Pixel 3 loaded with A.I features and the Home Hub to step up its smart home game, and the iPhone XR is about to hit shelves worldwide. And there's still more to come.
This week, Apple announced it would host another event, which could bring new iPad Pros, MacBooks, and Macs. There has also been chatter suggesting that Samsung could unveil a foldable smartphone by November.
This year's consumer tech cycle is far from over, but there have already been so many bangers. Catch up with our top ten below.
10. Samsung CHG90 Curved Gaming Monitor
No gaming rig is complete without a stunning monitor to fully immerse yourself in the action. Samsung's 49-inch CHG90 comes with a wide and curved display that stretches int your peripheral vision to give you a Fortnite experience like no other.
The screen uses quantum-dot light-emitting diodes (QLED) technology to provide bright and vibrant picture quality for any first-person shooter or role-playing game you want to dive into. The 144-hertz monitor can redraw the images it displays 144 per second, making for a smooth gaming and viewing experience.
Price: $1,099 or $871.94 with Amazon Prime
Buy on Amazon.
9. Fitbit Charge 3
The Apple Watch Series 4 made a splash in the wearables market, but its price ($400-$750) may remove it as an option for some. Say hello to the Fitbit Charge 3, a reliable, no-frills fitness tracker that will help you stay active and track the data that comes with it.
The Charge 3's can track 15 exercise types, including running, swimming, and yoga. It uses photoplethysmography, or PPG, to track heart rates by shining LED lights onto your skin to detect how much blood is flowing through your wrist. Best of all, it is fully compatible with iOS and Android devices.
Price: Starts at $149.95
Buy on Amazon.
8. ASUS ZenBook UX330UA-AH54
Are you on the hunt for a slim and capable Windows laptop for less than $1,000? Look no further, the ASUS ZenBook is here to deliver the power you need for the low.
"My sister has a new Mac. We just compared features and benefits. They were SO similar until we compared price," writes one Amazon customer.
It packs an Intel Core i5 processor, which can deal with up to 3 billion operations a second a second. That's alongside an NVIDIA GeForce MX150 graphics card for your casual gaming needs, 8GB of RAM, and 256GB of storage capacity.
Price: Starts at $732.99 with Amazon Prime
Buy on Amazon
7. Oculus Go
Oculus is going all-in on stand-alone virtual reality system, meaning you don't need a computer that costs upwards of $1,000 to use your headsets. The Oculus Go enables users to enjoy immersive VR experiences like touring Jurassic Park or diving through the ocean, without the need to tether to a separate system.
The goggles are retrofitted with a 5.5-inch 2,560-by-1,440 display with 60Hz, a Qualcomm Snapdragon 821 processor, and a 2,600 mAh battery. It's essentially a computer baked into a VR headset.
Price: $199
Buy from the Oculus Store
6. iPad 9.7-inch with Apple Pencil Support
Apple refreshed its trademark tablets in March by re-marketing it toward students and teachers. This update came with integrated Apple Pencil support for note-taking, sketching, and editing along with some improved specs.
It comes with a Retinal display capable of 2,048-by-1,536 pixel resolution with 264 pixels per inch. Internally, it packs the A10 Fusion chip, 32-gigabytes of storage, 10-hours of battery life.
These specs are slightly underwhelming next to a powerhouse like the iPhone XS Max, that has nearly double the pixel density. But at a third of the cost of the XS Max, it's in the same price range as low-cost laptops, perfect for students looking to use one device for as a textbook, notebook, and laptop.
Price: Starts at $329 + $99 for the Apple Pencil
Buy from the Apple Store
5. Scuf Vantage Gaming Controller
The Scuf Vantage gaming controller has outfitted console controllers with more buttons, switches, and triggers so players can do more without taking their thumb off the joystick. It comes with four programmable rear paddles and four rear triggers that can be mapped fit your specific gaming style.
By making more effective use of a controller's empty space, Scuf has developed a controller that is perfectly suited to up your building skills in Fortnite. Forget about fumbling for the right button, they'll all be placed where your fingers naturally land on the controller.
Price: Starts at $169.95
Buy from the Scuf Store
4. Jabra Elite Active 65t Earbuds
The AirPods made waves in the wearable market, but with an upgrade to Apple's signature buds nowhere to be seen, other companies have stepped up to the plate. AirPods have been known to fall out, that's where the Jabra Elite Active 65t Earbuds want to leave their mark.
"These earphones fit really well in the ears and are great for working out," writes an Amazon customer. "On top of this, the sound quality is really great for earbuds and even has the functionality of pausing music if the earbuds come out"
This earset is fully waterproof, pack up to 15 hours of battery life, and have one-touch access to Alexa, Siri, and Google Assistant. This gives them a bit more versatility that Apple's pair.
Price: $189.99 with Amazon Prime
Buy on Amazon
3. Echo Dot 3rd Generation
Alexa's new home device absolutely slaps. Amazon announced the release of a third-generation Echo Dot speaker during a surprise hardware launch in September.
This compact smart speaker is 70 percent louder than its predecessor, with lower distortion and enchanted bass. So when you ask Alexa to start blasting your favorite playlists, you won't be disappointed by it sound quality.
Price: $49.99
Buy on Amazon
2. Anker Fast Wireless Charging Stand
Wireless charging technology is getting more ubiquitous by the day, more and more smartphones are being imbued with the feature. Yet, wireless chargers can still be pretty pricey, like Samsung's $119 Wireless Charing Duo. Not about the fat price tags? Pick up an Anker Fast Wireless Charging stand for the low.
The pad can juice your device up to 10W and props it up at the same time so you can keep enjoying YouTube videos without having to stop charging. This makes it the perfect entry-level wireless charger for cord cutters looking to cut the cord in a different way.
Price: $29.99
Buy from the Anker Store
1. Google Pixel 3
In a year where phones boasted diagonal display sizing upwards of 6 inches, there was one stand-out handset that went against the phablet trend and can still hold its own. The Google Pixel 3 is a compact artificial intelligence powerhouse that can do anything its 3 XL counterpart can.
The phone has a 5.5-inch OLED display, a single rear 12.2-megapixel camera chock full of A.I. features, it can intercept spam calls, and of course, comfortably fit in your pocket. Oh and no notch. This smartphone holds on the handheld silhouette set forth by the iPhone 5 but propelled it into the future with some cutting-edge software.
Price: $799
Buy from the Google Store