iPhone XR Pre-Order: How to Get Your Hands on the 'Budget' iPhone X
How to pre-order before anyone.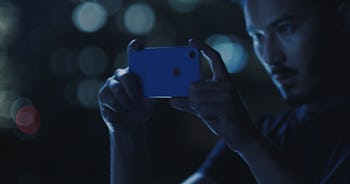 Apple
While Apple fans have had roughly a month to test out the iPhone XS and XS Max, the iPhone's cheapest and most colorful variant is still waiting for its moment in the spotlight.
That's because the pre-order window for the iPhone XR opened far after the two marquis headsets, and will begin October 19. The lucky first batch of pre-orders should be able to get their XRs on or close to the official October 26 launch date.
The XR will be especially tantalizing to price-sensitive buyers that are looking to upgrade this year. Veteran Apple reporter Philip Elmer-DeWitt previously told Inverse that the company strategically used the iPhone XS as a "sacrificial lamb" to make the $1,099 XS Max seem more lux and the $749 XR cheaper. This lines up with early predictions that consumers would be raving for a lower-cost iPhone that still gives off Apple's luxurious aesthetic.
All signs point to the XR as having the potential to be a banger. So if you're eyeing the multicolored smartphone set a phone reminder to make sure you don't miss out.
iPhone XR Pre-Order: Set Up Fast Checkout
On October 19, users will want to navigate to the iPhone XR's landing page to begin the pre-order process just like buying any other iPhone. However, members of the iPhone Upgrade Program can fast-track their order. This of this like a pre-order for your pre-order.
"Get ready for iPhone XR pre-order starting at 12.00 p.m. PDT on [October 15]," reads the website. "Use the Apple Store app on your iPhone to get preapproved for the iPhone Upgrade Program, so you can speed through checkout on [October 19]."
This will essentially let you use the Apple Store app to pick your carrier, color variant, and storage capacity beforehand so all you need to do is hit checkout to secure your XR. Keep in mind, the only way to access this option is to become a member of the company's upgrade program with makes you eligible for a phone upgrade every year.
Everyone else will need to manually check out October 19, whether through the Apple Store; cellular carriers, like AT&T and Verizon; or tech retailers like Best Buy and Target.