The Huawei Mate 20 Pro Is Hard to Get in the USA, but Worth It for Some
The specs don't like. It's a beast.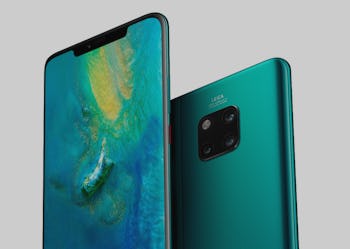 Huawei
The Huawei Mate 20 Pro, the telecom giant's new flagship phone, isn't easy to get if you're in the United States because of potential security risks, but you may want to try to nab one anyway.
At first glance, the 6.39-inch handset that made its debut Tuesday appears to be the perfect phone if you want a huge battery, stunning camera resolution, and a grab bag of impressive software and hardware. It's as if Huawei sat back, waited for its competitors to drop their new phones, and then amalgamated each competing phone feature into a new device. As one of the final handsets to arrive ahead of the holiday shopping season, it ends the season on a high note.
The Mate 20 Pro boasts a trio of high-resolution cameras on the back and one unique feature that none of this year's new smartphones can claim.
Sadly, American smartphone enthusiasts won't be able to buy the device through their carriers, like AT&T and Verizon. Natural security concerns over Huawei possibly spying on U.S. consumers have resulted in negotiations between the company and major carriers to fall through. This has made it difficult for Huawei to gain a foothold in the U.S. smartphone market, but that doesn't mean American consumers will be completely barred from getting the Mate 20 Pro.
"We're deeply concerned about the risks of allowing any company or entity that is beholden to foreign governments that don't share our values to gain positions of power inside our telecommunications networks," FBI Director Chris Wray said before the U.S. Senate in February.
U.S. consumers will have to jump through more hoops to buy a Mate 20 Pro, but it's possible. (More on that below.)
With that in mind, here's what's inside the latest flagship phone from the world's largest telecom manufacturer.
How Can I Get the Mate 20 Pro in the U.S.?
Since Huawei and U.S. cellular carriers have had a falling out, everyone in the States will likely have to grab an unlocked version of the phone on Amazon. All you have to do then is slide in your SIM card and start browsing.
While the Mate 20 Pro still isn't available on the e-commerce site, Huawei's previously released P20 Pro is available. Expect the something similar from the company's latest flagship in the coming weeks.
## Huawei Mate 20 Pro: Price, Colors, and Storage Capacity
Huawei's latest was announced to start at 1,049 euros, which converts to roughly $1,216. The handset comes with 128GB of storage capacity that can be expanded to 258GB with an external memory card and packs 6GB of RAM. Users can select from Emerald Green, Midnight Blue, Twilight, Pink Gold, and black color variants.
Huawei Mate 20 Pro: Specs
For straight-up spec geeks, the Mate 20 Pro goes mano-a-mano with any of this year's top-tier handsets. It comes with a notched, 6.39-inch OLED screen that curves off of both of its sides to provide the edge-to-edge appearance and feel that most of this year's flagships are going for. OLED screens are by default more elastic than LCD screens and Huawei is making sure users know that by bending the Mate 20 Pro's display just over the edges.
Vibrant screens like this can be power intensive, but this is taken care of by a 4,200 mAh battery. That packs more juice than the Samsung Galaxy Note 9, iPhone XS Max, and the Google Pixel 3 XL. Battery life tests still need to be conducted, but with a battery that capable expect at least a full day of charge.
The main engine of this powerhouse smartphone will be Huawei's 7-nanometer Kirin 980 chip, that is essentially like the company's version of Apple's A12 Bionic processor. It promises a 20 percent performance and 40 percent power efficiency improvements compared to Huawei's previous chipset. This component is supposed to stand up the likes of Qualcomm's Snapdragon 845, which was in most of this year's phablets.
Huawei Mate 20 Pro: Camera Setup
The phone packs four cameras in total, three on the back and one in the front. Phones like the LG V40 ThinQ and Galaxy A7 also have camera trios, but the Mate 20 Pro is organized into a square instead of the usual strip of lenses.
On the back panel users will find a 40-megapixel, wide angle lens. This means it's capable of capturing photographs with 40 million pixels, that's over three times the resolution of what Apple's iPhone XS Max provides.
The main sensor is accompanied by a 20MP ultra-wide lens for pictures of big buildings or vast landscapes. Then there's a 8MP telephoto lens that provides a 5x optical zoom, without the need of digital zoom that often times makes images slightly grainy.
On the flip side, the selfie cam is a wide lens that clocks in at 24MP. This will produce pictures of friends and family at three times the resolution that the Galaxy Note 9 is capable of.
Huawei Mate 20 Pro: Features
The Mate 20 Pro has a toolkit of features that will sound familiar, but one is totally out of left field.
It supports fast Qi wireless charging at 15-watts, has facial recognition capabilities, and it comes with a fingerprint reader underneath the display. That means they didn't have to sacrifice screen real-estate for a home button to scan thumbs.
These are all present in other handsets, but the Mate 20 Pro has the ability to wirelessly charge other devices, not just itself. That's right if you press another Qi-compatible smartphone to Huawei's new flagship while the feature is active it'll share some of its battery life.
So it's like you're getting a wireless charger bundled with your phone, but it can't charge itself. It remains to be seen if this will actually be useful or if it's just a flex.
As it stands, the telecommunications and tech giant is the second largest smartphone manufacturer in the world. It presides over 15.8 percent of the global smartphone market share, right behind Samsung, according to a second-quarter report by the International Data Corporation. But it's completely a different story in the U.S.
The Chinese company is nowhere to be seen and Apple dominates 40 percent of the American smartphone market share, according to a second-quarter analysis by CounterPoint. Is the Mate 20 Pro Huawei's way into this market or will it continue to be slept on by U.S. consumers?