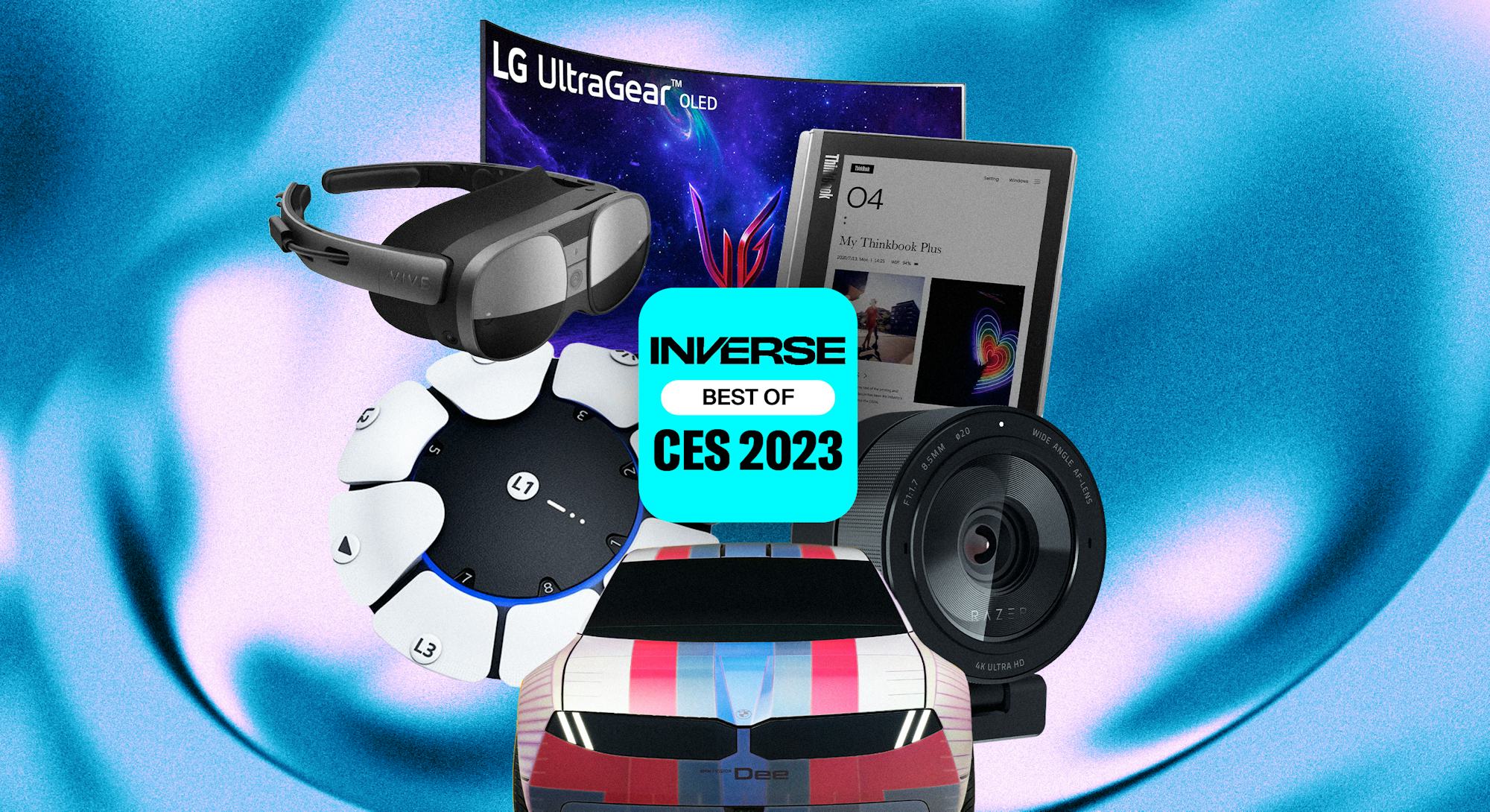 CES 2023
The 20 best tech products of CES 2023
We came, we saw, and we crowned the 20 best tech products from the year's largest technology show.
Lais Borges/Inverse
Another CES has come and passed, and as we predicted, the technology show was mostly about EVs, TVs, and mixed reality.
In our first "Best of CES" awards at Inverse, we've crowned 20 of the most interesting tech products announced at CES 2023. From laptops to headsets to concept EVs, here are the very best from the biggest consumer electronics show of the year.
BMW i Vision Dee
The words "color-changing electric car" may like a random assemblage of CES buzzwords, but we assure you, the BMW i Vision Dee is the real deal. BMW brought its E Ink car back to CES this year with some major improvements. As demonstrated by BMW, the i Vision Dee, as it's been dubbed, can now switch between 32 colors, making it one of the most mesmerizing demos of the entire show.
LG Signature wireless OLED TV
Yes, wireless TVs are a thing now. LG showed off its LG Signature wireless OLED TV, which stands at a whopping 97 inches and uses a transmitter box to send audio and video signals. It's hard to say for sure, but LG's tech feels like it could be a one-up to extremely popular lifestyle TVs like Samsung's Frame.
Lenovo Yoga Book 9i
Lenovo might have figured out the dual-screen laptop with the Yoga Book 9i. It's the first of its form factor that genuinely feels polished. With the origami stand, the Yoga Book 9i can display content on both screens; the wireless keyboard can transform the bottom into a trackpad or a Touch Bar-like interface.
Razer Leviathan V2 Pro
Have you ever seen a desktop soundbar with head-tracking? Neither have we. Razer's Leviathan V2 Pro boasts THX virtual surround sound and an IR camera that tracks your movement so that it's always directing audio at you.
Sony PlayStation Project Leonardo
Although still a prototype, Sony's Project Leonardo modular PS5 controller for players with disabilities is at least a step in the right direction toward making gaming on its console more accessible. Nearly every piece is configurable and there are even mounts and aux ports for further customization.
Sony Honda Mobility Afeela
Yes, Sony Honda Mobility's latest prototype EV, the Afeela, may look like a bar of soap, but, even with a boring profile, Sony's foray into EVs is one that's too splashy to be ignored. Sony says it plans to bring its EV to market in the U.S. by 2026 and showcased a few of the car's standout features, like an exterior interactive display and loads of sensors for autonomous driving.
Samsung S95C 4K TV
Bigger; better; brighter. That's the name of the game with the Samsung S95C 4K TV, which is likely Samsung's brightest OLED TV yet, and potentially the brightest on the market. With OLED TVs, brightness is really everything, so while the S95C might not be the most futuristic product on this list, it's arguably one of the most desirable.
Hasbro Pulse
Turning yourself into an action figure takes only a few seconds with Hasbro Pulse. After scanning your face with your phone, Hasbro Pulse puts your 3D-scanned face onto an action figure that'll then be 3D printed and shipped to you within 45 days. It's one of the coolest custom gift ideas we've ever seen.
Lenovo ThinkBook Twist
The Yoga Book 9i isn't the only boundary-pushing laptop at CES. Lenovo also announced the ThinkBook Twist — a laptop with a twistable dual-sided display, one side with a color OLED touchscreen and the other with a color E Ink display. It's clear this product is a "Why not have both?" laptop? And we're here for it.
L'Oreal Hapta
It's nice to see accessibility tech get some shine. L'Oreal's Hapta device is designed to help stabilize people with mobility issues while they apply their makeup using motion sensors and a special gimbal. Hapta makes the list for being more than just an interesting piece of technology — it's one that could genuinely better people's lives.
Samsung SmartThings Station
Samsung understands that getting people to put a smart hub in their homes to enable a smart home is a barrier to entry so they built it into a wireless charger. Unassuming and dual-purpose, the SmartThings Station just makes total sense.
Dell Concept Nyx controller
Microsoft and Sony have all but perfected the traditional gamepad, so color us surprised when we got word on Dell's Concept Nyx controller. The Alienware-branded controller has some cool ideas like a fingerprint sensor, shift buttons on the rear, scroll wheels, and touch sensors for additional input. It's only a concept for now, but if Dell made it, we have a hunch hardcore gamers would pony up.
GE Cync Dynamic Effects
Smart lights are a dime a dozen, but GE managed to bring something fun to the table with Cync Dynamic Effects. By far the most interesting addition to its connected light lineup are the neon-like rope lights that can bend into various shapes. It'll be hard to dethrone Philips as the smart light standard, but GE is off to a good start.
HTC Vive XR Elite
Undercutting the Meta Quest Pro on price, HTC's Vive XR Elite was hands-down the best mixed reality headset at the show. It does pretty much everything the Quest Pro does in what appears to be more polished hardware. It's been too long since Meta had competition and we're glad HTC is up for the challenge once again.
LG UltraGear 45GR95QE
The standout gaming monitor at CES 2023 was undoubtedly LG's UltraGear 45GR95QE. The 240Hz OLED display and .03ms response time completely immerse you in its 21:9 curved aspect ratio in a way no flat screen ever could.
Asus ProArt Studiobook
Gimmick or not, Asus' ProArt Studiobook and its glasses-free display is impressive. We were skeptical at first, but the eye-tracking allows 3D to be viewed at angles other than dead center. This isn't just a larger Nintendo 3DS; it's a leap forward for content creation and entertainment on a laptop.
Cake Äik
There was no shortage of e-bike announcements at CES 2023, but only one that stole our hearts: Cake's Äik. Part e-bike and part utility vehicle, the two-wheeler can haul around 300 pounds of cargo — and do it in rad style.
EcoFlow Whole-home Backup Power Station
Yes, power stations can border on doomsday prepping, but the fact that you can readily buy one that powers your home for a week is hard not to celebrate. Is $3,600 a lot of money to spend on a generator? Maybe. But when you're still thriving in a blackout, you probably won't regret a single dime spent on EcoFlow's backup.
Razer Kiyo Pro Ultra
A good webcam is a must whether you're taking Zoom calls or streaming to your followers. Razer's Kiyo Pro Ultra balls out with 4K 60 fps capture, a large sensor with f/1.7 aperture, and welcome features like a mechanical privacy shutter. It's large, but it's one of the best webcams we've used.
RAM Ram 1500 Revolution BEV Concept
Ram's electric pickup prototype, the RAM 1500 Revolution, is as big as it is high-tech. At CES 2023, we got to ogle what the truck may eventually look like and speculate over eyebrow-raising features like a smart bed that senses your load capacity and a mobile movie projector. If the Ram eventually arrives to market anything like what we saw, it should be a formidable competitor in the space.
INVERSE brings you everything from the fun and futuristic world of consumer technology at CES 2023. For all the latest technology coverage from the show, go to the INVERSE CES 2023 hub.