GE's new neon-esque smart lights can bend into different shapes
GE is expanding its smart light offerings with Cync Dynamic Effects — app-enabled bulbs with a focus on entertainment.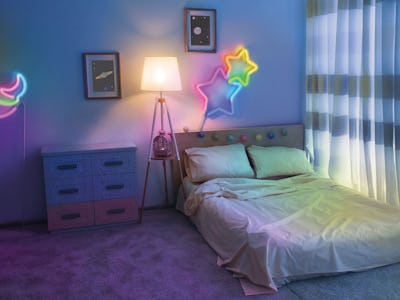 GE
I'm a sucker for a good smart light. Even if smart home technology hasn't quite revolutionized our lives in the ways we thought it would, the one thing I consistently rely on at home is the ability to set a vibe (or turn said vibe off/on) with a voice assistant.
Yelling at a microphone to turn your lights on might not always be fun, but it works (most of the time). And while I haven't used GE's new Cync Dynamic Lights, they already look like a welcome entry into the internet-enabled lighting space.
Dynamic Effects — As a part of CES 2023, GE announced several new products to its smart home lineup, including Cync Dynamic effects — smart lights with a focus on meshing with your home entertainment system.
In addition to being able to display 16 million different color tones (also four different colors simultaneously), GE says its new Cync lights create pre-set and custom light shows that, well, sync, with your music. All of the lights can be controlled via its Cync app, which is powered by Savant Systems, the parent company of GE Lightning.
Cync Dynamic Effect lights will come in several variants, including general-purpose bulbs and an indoor floodlight, but my favorite addition comes in the form of neon-style rope lights that can be bent into different shapes. Maybe that's not the most practical lighting that money can buy, but it's pretty fun.
Similarly, GE is even taking a run at companies like Nanoleaf with the introduction of hexagonal light panels which are loaded with all the same capabilities as its other Dynamic Effects lights.
More practical, please — If elaborate shapes aren't really your thing, GE also introduced Dynamic Effects strip lights that can be placed discreetly under desks or inside shelves late last year. Think of these as more of a competitor to Philips light strips — by far one of the most popular options among light strip enthusiasts.
If you're still not tickled by any of GE's newly announced options, it's also releasing a wafer light that it says is "designed for easy installation." The "Reveal" light, as GE has dubbed it, is geared primarily toward properly lighting spaces where you need clarity like bathrooms or kitchens. Don't worry, you can still change the color if you need a purple kitchen vibe.
While GE is making its way toward bringing Matter compatibility to all of its smart home devices in 2023, Dynamic Effects lights will not make the cut.
Price and release date — GE says its new Dynamic Effects lights are coming in March 2023 and will range in price from $19.99 to 199.99. The Reveal wafer light is set to be released in "Q3" with no official price.
INVERSE brings you everything from the fun and futuristic world of consumer technology at CES 2023. For all the latest technology coverage from the show, go to the INVERSE CES 2023 hub.