Dell's controller concept reimagines gaming with touchpads and scroll wheels
The Concept Nyx controller introduces a fingerprint sensor, shift buttons, and scroll wheels.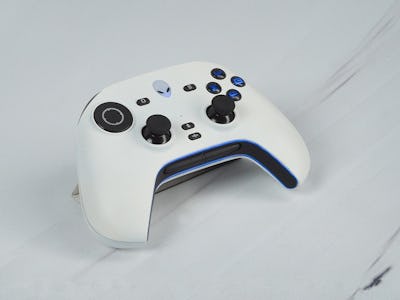 It may just be a concept, but Dell's Concept Nyx controller does make us realize how much better gaming controllers could be. At CES 2023, Dell revealed its latest addition to its Concept Nyx line that teases all the next-gen concepts it's working on. As the name suggests, these products are all conceptual but that can't stop Dell or Alienware from introducing some of these designs into actual products.
It looks like Dell pulled some design cues for the Concept Nyx controller from the current popular options by Xbox, PlayStation, or even Steam. However, Dell's concept is far more high-tech than any of the controllers on the market right now.
Features on features — At first glance, Dell's concept just looks like a typical controller. However, Dell shoved a ton of features into the gamepad, like a fingerprint sensor underneath the central Alienware logo button. After confirming your fingerprint, the controller can open up the game you were last playing, making it much easier to share the console or controller if you live in a household with other gamers.
Gaming controllers were usually trumped by a keyboard and mouse setup that offered more buttons, but the Concept Nyx controller adds shift buttons just like we see in keyboards. When you hold the shift buttons on the back of the controller, you can get even more functions for the front buttons. There are also two scroll wheels under the center area, making it easier to thumb through in-game menus.
So many sensors — Dell's Concept Nyx controller has touch sensors under the shoulder buttons for gesture controls, like increasing volume by swiping. Even though there's already a ton of customization, you can remap all the buttons and triggers. To avoid that annoying adjustment period after remapping buttons, there will be intelligent on-screen overlays to detail what the button does. Dell even says you can stream to any device by pointing the controller at it and pulling the trigger.
With all the extra buttons and functionality, Dell's Nyx definitely makes gaming on a controller much easier. It also addresses the limitations of console gaming, while keeping things portable in a tight, handheld package.
Just concepts for now — Like all other Concept Nyx ideas, the controller is only a concept for the time being. We've already seen a few Dell's concepts at the last CES — like Concept Polaris — but we've yet to see Dell put any of it into a real product.
Still, Dell explores these concepts to test out technologies and designs that could potentially impact its future products. We're holding out hope that Dell incorporates some of the controller's game-changing designs into a real product down the line.
INVERSE brings you everything from the fun and futuristic world of consumer technology at CES 2023. For all the latest technology coverage from the show, go to the INVERSE CES 2023 hub.