Lenovo's dual-screen laptop can twist and bend to suit any task
Adding the folio stand and the stylus makes the Yoga Book 9i even more capable.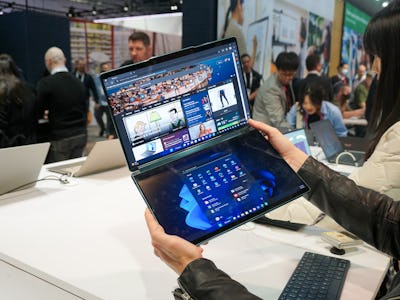 Raymond Wong / Inverse
Lenovo announced quite a few new laptops at CES 2023, but the dual-screen Yoga Book 9i has some serious potential at influencing laptop design. The flexible laptop can be a traditional clamshell laptop, a flat tablet, or a multitasking machine in its many tent configurations.
Most of us have already seen Lenovo's Yoga laptops which let you easily convert a traditional laptop into a tablet. That flexibility separated them from other laptops, but the Yoga Book 9i takes that multifunctionality to the next level by adding another screen.
Clip the keyboard to the bottom half of the lower touchscreen and the top becomes a giant Touch Bar-like panel for display widgets or smaller windows.

Raymond Wong / Inverse
The keyboard clips to the outside when the Yoga Book 9i is closed.

Raymond Wong / Inverse
When the keyboard is placed at the top of the bottom screen, the exposed touchscreen becomes a trackpad.

Raymond Wong / Inverse
With two screens and that Lenovo flexibility, you can make the Yoga Book 9i into a super-tall laptop, a double-wide tablet, or a two-page e-reader. It even comes with a folio stand attachment and stylus that lets you further customize the laptop.
Solid specs — The Yoga Book 9i will only be available in one size with a 13.3-inch OLED display that has a 2.8K resolution and a 16:10 aspect ratio. Lenovo has gone with an unimpressive 60Hz refresh rate, but the display can get up to 400 nits of brightness and has a full HD webcam with a privacy shutter.
The Yoga Book 9i will be powered by a 13th Gen Intel Core i7-U15 and Intel Iris X graphics. You can build the laptop with up to 16GB of LPDDR5X of RAM and either 512GB or 1TB of PCIe SSD. The 80WHr battery means you'll get up to 10 hours of video playback when using both screens and up to 14 hours when just using a single screen. The Yoga Book 9i will have three Thunderbolt 4.0 ports and will be compatible with Wi-Fi 6E and Bluetooth.
The dual-screen way — The Yoga Book 9i isn't the first time that Lenovo experimented with this dual-screen laptop form factor. Under its more business-oriented ThinkPad lineup, Lenovo released its X1 Fold in November. The X1 Fold and Yoga Book 9i obviously share a very similar design but Lenovo slimmed down the bezels and shrunk down the display for its Yoga offering.
Lenovo is planning on releasing the Yoga Book 9i only in a teal color starting in June 2023. It will start at $2,099.99, making it more affordable than the $2,499 X1 Fold. While the Yoga Book 9i isn't the first dual-screen laptop out there, it's certainly contributing to a growing trend of laptops that are all display. Even Asus has somewhat dipped into this form factor with a laptop that's basically one massive foldable screen. Two screens, or even one super screen, may seem a little bit overkill for a laptop, but we can't really argue with all the ways they could make work easier.
INVERSE brings you everything from the fun and futuristic world of consumer technology at CES 2023. For all the latest technology coverage from the show, go to the INVERSE CES 2023 hub.