Which Marvel Movies Are on Netflix?
From 'Captain America: Civil War' to 'The Punisher.'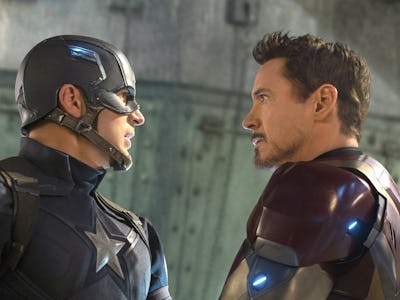 Marvel
The Marvel Cinematic Universe is taking over the world — and unlike its supervillains, it has enough competence to see its plans through. Its meticulously scheduled first three phases have redefined superheroes on the big screen. But if you didn't get a chance to see films like Captain America: Winter Soldier or Deadpool in theaters, Netflix is there for your small-screen needs, too. Here are all the Marvel films currently on Netflix:
The Punisher
The underrated 2004 Punisher movie is not technically part of the Marvel Cinematic Universe in its recent phases 1-3 stage, but it's based on the Marvel Punisher comic. Starring Thomas Jane as Frank Castle, aka the Punisher, and John Travolta as his enemy Howard Saint, it's the first big-screen film that wasn't straight to DVD as the 1989 version was.
Captain America: Civil War
The third Captain America film, which came out in 2016, pits Cap against Tony Stark, setting up the future of the MCU in films to come. It features the trademark snark and drama of previous installments, but the stakes and emotions are higher than ever. Plus, this film singlehandedly elevated Sebastian Stan, who plays Bucky, into internet fame. If you missed Civil War the first time around, or simply want to watch it again, it's currently streaming.
While you're waiting for Netflix to update with more entries on the MCU, check out these Marvel TV shows, too.
Daredevil
After a tepid 2003 movie, Netflix's Daredevil gave the character a much-needed image makeover. Charlie Cox's version of the blind vigilante is compelling, complicated, and a hell of a lot of fun.
Jessica Jones
If you haven't seen this gritty, noir detective show that combines a superhero story with a weighty rape narrative, what have you been doing with your life? Jessica Jones crackles with wit and tension and proves that women can star in complicated, fucked-up antihero narratives just as soundly as men.
Luke Cage
Harlem takes center stage in this lively rendition of the bulletproof man's origin story. Filled with dynamic villains and pulsing music, Luke Cage is a treat for the senses.
Iron Fist
Iron Fist is not the most critically acclaimed show in the Marvel Universe, mostly because it has the wrong hero and a large helping of uneasy whitewashing. Nonetheless, if you want maximum preparation for The Defenders, Danny Rand's journey is available to stream.
Agents of S.H.I.E.L.D.
The first three seasons of ABC's bureaucratic superhero drama are all on Netflix. Watch as Agent Coulson and his team investigate mysterious occurrences, and dismantle and reform over the course of several seasons. Events of MCU movies, like the destruction from Thor, present a fun referential backdrop.
This post was most recently updated on May 24, 2017. It will be updated monthly.
You May Also Like:
'The Defenders' Unite (But Don't Get Along) in First Trailer
The Hulk Could Beat Superman, Marvel and DC, Writers Say
Ant-Man Could Destroy Superman, Says Quantum Physics
6 Marvel Spin-Off Movies That Need to Get Made ASAP