2018 Will Be the Year of Deadpool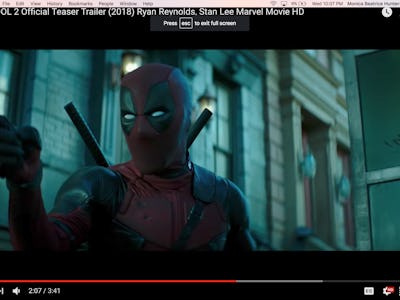 YouTube Account JoBlo Movie Trailers and 20th Century Fox
2018 will be the year SpaceX sends two tourists to the moon, the year of midterm elections, and the year of the Dog in the Chinese zodiac. But mostly, it'll be the year of Deadpool.
On Wednesday, FXX announced ten episodes of an adult, animated Deadpool TV series coming sometime next year. This is earth-shatteringly awesome, but even more so because we've already got the second-biggest Deadpool theatrical release ever coming with Deadpool 2, which hits theaters on June 1, 2018.
There's little chance that these two projects will compete with each other since they have such different markets. If anything, this animated series could expand Deadpool's fanbase: It could bring in admirers of the multi-talented Donald Glover's other work, like his music as Childish Gambino, his performance on Atlanta, or his upcoming role in the Han Solo movie.
Besides all of this, 2018 will certainly include the continuation of the long-running Deadpool comics series. Basically, new Deadpool material will be coming at you from every medium. Maybe Glover could write a Deadpool-themed song to top it off?
We don't yet know many details about Deadpool 2 or the animated TV series; 2017 will be the year of Deadpool speculation and impatience, apparently. But don't fret — next year ain't that far away.