Just, Like, Be Ready for Captain America's Death in the MCU
We're not saying it's happening. But the outcome is extremely plausible for the star-spangled hero.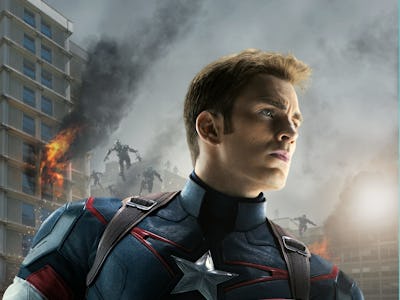 Marvel Entertainment
In less than one year, Marvel Studios will release the mother of all superhero movies: Avengers: Infinity War. The Russo brothers, who directed Captain America: Civil War, are going to have to top that epic hero-packed extravaganza. How are they going to do it? Well, killing off a major character like Captain America would sure make a hell of an impact.
As of now, details for Avengers: Infinity War are scarce. We know that filming is underway in Atlanta, the United Kingdom, and more, so it seems doubtful that we'll get a trailer before this year's Comic-Con International in San Diego (which takes place annually in July). But, if we're killing time before then by theorizing, there's reason to fear for Steve Rogers's safety.
The biggest clue foreshadowing Captain America's departure comes down not to Easter eggs or universe-centric theories, but something less fun: actor contracts. As of now, Chris Evans, who has played Steve Rogers since 2011's Captain America: The First Avenger, is slated for only two more Marvel movies. One of them is Infinity War, and the second will most likely be 2019's still-untitled Avengers 4. A number of other actors with similar stipulations, such as co-star Anthony Mackie, who plays Sam Wilson, aka the Falcon, will also dub Avengers 4 their swan song, unless something changes behind the scenes.
Meanwhile, Sebastian Stan, who plays Bucky Barnes/the Winter Soldier, has a whopping NINE films in his contract. Stan has fulfilled three, his fourth will be Avengers: Infinity War, and his fifth will presumably be Avengers 4. That still leaves enough for an entire solo trilogy, plus one more for a crossover appearance.
But, while heroes like Tony Stark and Hawkeye can peacefully retire and kick back, Captain America's comic book history suggests he's in for something more harrowing. Shortly after Mark Millar's Civil War, the comic which served as the loose basis for the film, Captain America is assassinated by Red Skull in Ed Brubaker's aptly named The Death of Captain America. Though later comics would undo this via some weird timeline shenanigans, in the wake of his "death," Tony Stark suggested that Bucky Barnes — aka the Winter Soldier — take up the mantle. Bucky's costume as the star-spangled hero emphasized Bucky's steely past, with adamantium armor and a pistol and combat knife as part of his arsenal.
Bucky's substitution lasted for quite a while, even through Steve's resurrection just a year later in Captain America: Reborn. From there, the Marvel Universe saw three Avengers teams: The New Avengers led by Luke Cage, the black-ops Secret Avengers led by a non-Cap Steve Rogers, and the premier Avengers, led by Bucky as Captain America along with Wolverine, Iron Man, Spider-Woman, Spider-Man, Thor, and Hawkeye.
But, don't bet that Tom Holland's Spider-Man will team up with Chris Hemsworth's Thor and Jeremy Renner's Hawkeye, because both Hemsworth's and Renner's contracts also expire after Avengers 4. While it's possible that either one of them could die based on looking at their contracts, Captain America still looks like the most likely suspect. Thor doesn't have a replacement already in the waiting like Steve does with Bucky, and Hawkeye has already escaped death once, since Age of Ultron trolled fans by heavily foreshadowing a killing that never happened (to Hawkeye, at least; RIP Quicksilver). Plus, Hawkeye's already retired. He doesn't need to die.
All this is, of course, massively wild guessing to what the mega-secretive Marvel Studios has planned for its universe after Avengers 4. Marvel's movies hardly adapt the comic books 1:1, so precedents from that medium are hardly set in stone. But, if one wants to forecast the future of the fictional Marvel Cinematic Universe, there's no reason it wouldn't be mapped out in the real (and boring) world of contractual obligations.