JOB HACKS | Emmy Winning Jessica Jones Composer Sean Callery 
The Emmy-winning composer of Jessica Jones, 24, Homeland, and more talks his career and process.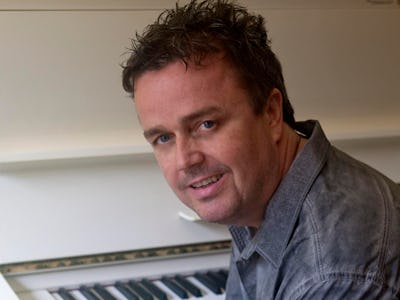 Careers rarely go according to plan. In Job Hacks, we shake down experts for the insights they cultivated on their way to the top of their field.
This week, we spoke with composer Sean Callery, who just won an Emmy for his main title theme of Jessica Jones. With 16 Emmy nominations, he is one of the most nominated composers of all time. In addition to Netflix's Jessica Jones, he also scores Showtime's Homeland, CBS's Elementary, and Fox's 24.
A lot of the shows that you do are crime and suspense shows, but they have very different tones. How do you find the different nuances of suspense in your music?
Each show has its own particular strand of DNA. The first task that any composer has is to be a storytelling participant in all of that which is already there, which exists in the acting, the writing, the directing, the lighting, the costume design. Over the years, I've gotten to know several people who work in the various trades of a show and it's amazing how we have to be in sync to make it work. If you turn to Homeland, 24, Elementary, Minority Report, or Jessica Jones, each series has its own kind of character which I try to bring so that it has its own unique signature.
Is there any show where it was easiest for you to find what the music should be?
No. I thought Homeland was going to be an easier show, because I knew right away it was not going to be a wall-to-wall music show. But the precision and the delicacy and the intimacy of that score and the way that story was told required a kind of nuance that I don't think I'd ever attempted in past projects. So each project — I'd like to think it gets easier as you go along, but for some reason it doesn't. It's interesting that it doesn't happen.
How did you go about finding the tone for Jessica Jones?
I'd never known about the character. I looked her up online. The first image I remember seeing out of the animated books was a private detective who was drinking whiskey. I said, "This can't be a superhero." You don't think of superheroes as hard-drinking detectives that live on their own. I read the first five scripts and I saw a character that has a sharp, biting wit, a sense of confidence, but someone who had some personal trauma in her past and motivation to prevent that injustice from being put on someone else. I was thinking about all these things before I even saw Krysten Ritter do her magnificent performance. Then I was brought to the offices of Marvel where they showed me a series of still slides. You don't get to see any of the moving images until the director's made his cut, and he hadn't done that yet. So I saw still snapshots of Jessica's world: the dark colors of the streets, and the fogginess, and the cold and her apartment. Kilgrave; the color of his tie.
At first blush I couldn't help but think she's a detective, she's working in a gritty neighborhood in New York, there's a dark tale there, she's trying to do the right thing — when I went to Melissa Rosenberg and Jeph Loeb, I said, "I'd love to do a neo-noir kind of sound." I wanted to experiment with a sound that would be more intimate in possibly a jazz language, smaller instrumentation, not a huge orchestra, because the show flowed like that. We began with those little tendrils of impulse and then that, over time, became the sound and the shape of the series.
Have you started your work on Season 2 yet?
I have not. I'm excited to get started on it, but I know that they're still writing it. I don't know when they're scheduled to film it. I just know that Melissa's hard at work on the next story which I'm very excited about, because she is a brilliant writer and storyteller and you could consider me a very devoted fan of hers. And I happen to work for her. That's a good feeling.
Do you gravitate towards this kind of genre because that's naturally what you enjoy in your own viewing?
I'm trying to think if I've ever worked on a show that I really didn't like, and that just hasn't been the case. I've enjoyed every show I've worked on, from La Femme Nikita all the way up to present day. Sometimes you get identified as being good for a particular style or good for a particular kind of storytelling. My colleagues and I love branching out into new directions creatively. Sometimes you have to swim upstream a little bit to make that happen. My first two or three shows were about female action heroes — and then 24 — but then Bones* came along, which was a more lighthearted; it had drama, it had some darkness to it, but it had a bit of comedy to it. And I so wanted to get involved with that show, as a way of exploring a different direction of writing and for lighter-fared content. I had to audition for it in a blind audition. I had to write cues for the show and they had to listen to it without knowing who was who. I got chosen and I remained on the show and it's been a ball.
Because you've worked on every form of TV, from network to cable to streaming services, do you find that your part of the job varies at all?
The core level part of the job doesn't change, which is you are part of a collaborative medium. Regardless of whether it's streaming or network TV, the DNA of that first part is unchanged. There are certain technical differences working in pay channel and Netflix-oriented environments. Probably the most direct contrast is that on network television, you have ad breaks for commercials, and in longer-form, commercial-free environments like streaming and pay channels like Showtime, you run the 55 minutes without any ad breaks, so the flow and the way the music is placed over those 55 minutes is different than when you're writing music for a show that has four or five ad breaks.
Jessica Jones was the first Netflix series I've ever worked on. I worked on it for eight or nine months. Then the show premiered in November of last year, and I remember getting an email from a fan less than three days after it premiered. That person had watched all 13 episodes in one very isolated sitting. That was amazing. This fan was very enthusiastic about how the show went down, but it was just sort of interesting that nine months of your life that you put into the show got consumed in the space of three days. It was wonderful and it was new, because if it's network television, you have to wait week-to-week.
What advice would you give to a young person looking to get into the industry?
I'm reflecting back on the people that I've hired over the last 10, 15 years. What has mattered to me is you have to always be honing and crafting your talent and you also have to have a great attitude. That seems rather obvious, but the people I've hired are very genuine people where the desire to work and learn is very evident. There's a humbleness to them. I'm only speaking for myself now — some people maybe like a more aggressive approach — but I tend to connect more with people who show those kind of qualities. We're in a world where it gets harder and harder to meet people, even though we're more connected than ever. The people I've met have reached out to me because they knew the direction they wanted to go and they viewed me as one of the people they thought would be nice to work for. They steadily kept in contact with me; every few weeks they would send me some music. I always try to listen to everything that gets sent to me. It's just a little knock on the door saying hello. I've found that people with positive attitudes combined with talent is a one-two punch for me. That's the name of that tune.
This interview had been edited for clarity and brevity.