You Won't See 'Jessica Jones' Season 2 for at Least 500 More Days
But you'll see her and Daredevil in 'The Defenders' next year!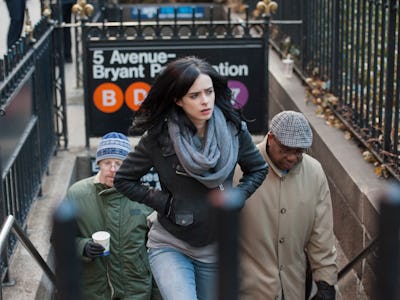 Netflix
Marvel is currently in Phase Three of its plans for world domination, but those plans do not include the next season of Jessica Jones, Daredevil, or the spin-off The Punisher, as both aren't scheduled to air until 2018.
At the Television Critics Association press tour on Wednesday, Netflix Chief Content Officer Ted Sarandos said that The Punisher, Season 3 of Daredevil, and Season 2 of its Peabody-award-winning Jessica Jones will not premiere until a year after Iron Fist and Marvel's cross-over series The Defenders, both scheduled to take up Marvel's two reserved blocks in 2017.
That doesn't mean you won't see Charlie Cox's Matt Murdock or Krysten Ritter's hard-drinking bad-ass Jessica Jones for another two years. Both Cox and Ritter will join their Netflix comrades in The Defenders, a team-up series poised to be a little grungier than their pristine Marvel Studios brethren in The Avengers. But what about Jon Bernthal's Frank Castle, who will star in The Punisher? Will he be in The Defenders too?
"Stay tuned," teased Sarandos, reported Comics Alliance. Great. Meanwhile, Twitter is having a minor meltdown over the news. Jessica Jones was hailed as an instant classic and one of the best produced by Marvel Studios. So anticipation is incredibly high. Naturally, Jessica Jones fans are … annoyed:
There was disbelief:
There was anger:
There was dark comedy:
And plenty of LOL-worthy tweets:
There's still a lot of Marvel left to go around on TV. Luke Cage premieres September 30, while Season 4 of Marvel's Agents of S.H.I.E.L.D. on ABC, which will introduce Ghost Rider, debuts this fall.