All About Ghost Rider Coming to 'Agents of SHIELD' Season 4
It ain't Johnny Blaze. Meet Robbie Reyes, revving his way to the MCU this fall.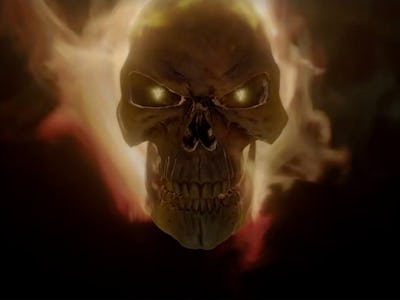 Facebook.com/AgentsofShield
Marvel is turning up the heat. As speculated weeks before San Diego Comic-Con, Robbie Reyes from the All-New Ghost Rider comics will enter the Marvel Cinematic Universe via Agents of S.H.I.E.L.D. in the show's fourth season this fall. Announced at Comic-Con Friday, Gabriel Luna (Matador, Wicked City) will portray Robbie, the Ghost Rider after Johnny Blaze, which Nicholas Cage played in the 2007 and 2012 feature films.
Not much was revealed at the Agents of S.H.I.E.L.D. panel at Comic-Con about Robbie's role in the series. It's especially intriguing given the new status quo following the Season 3 finale, with a vigilante Daisy (Chloe Bennet) working on her own and embracing her Inhuman alter-ego, Quake. It's also "classified" if Bobbi (Adrianne Palicki) and Hunter (Nick Blood) will return to S.H.I.E.L.D. now that Marvel's planned spin-off Most Wanted was not picked up, according executive producer Jeph Loeb.
The teaser from Comic-Con showed a heated-up S.H.I.E.L.D. insignia, before it gives way to a flaming skull — a signature of Ghost Rider.
In case you're wondering who the new Ghost Rider is, because it surely ain't Johnny Blaze, here's a quick primer: Introduced in All-New Ghost Rider from 2014 written by Felipe Smith, Robbie Reyes is an L.A. mechanic looking out for his younger brother Gabe, who is paralyzed from the waist down. Hoping to move out of their rough neighborhood, Robbie enters an illegal street race with a fat cash prize, but in John Carpenter-like fashion, Robbie's souped up muscle car is possessed by the ghost of serial killer and Satan worshipper Eli Morrow.
During the race Robbie is pursued by a local gang and drives into a dead end. They kill him, but as they leave, the ghost of Eli takes over Robbie and turns him into the new Ghost Rider. Pretty cool, right?
Unlike Johnny Blaze, who drove a super-powered Harley Davidson hog as his signature vehicle, Robbie is an engine head who loves a muscle car, which becomes his ride of choice when he's Ghost Rider.
After two unsuccessful movies from Sony and Columbia Pictures, Marvel Studios quietly reacquired the cinematic rights to Ghost Rider — and Daredevil, and Punisher, and even Blade — sometime around 2013. With Marvel owning these characters once again, they've put them to good use (except Blade). Marvel produced Daredevil for Netflix in 2015, and in its second season earlier this year The Walking Dead alum Jon Bernthal played Frank Castle, aka the Punisher, in an acclaimed performance that helped green light a solo Punisher spin-off, which was announced earlier this week during the panel for Marvel's Luke Cage.
Marvel's Agents of S.H.I.E.L.D. returns for its fourth season on ABC this fall.