First 'Captain America: Civil War' Reviews: Marvel's Avengers 2.5 is Great
Rave reviews from the junket press for Marvel's latest blockbuster.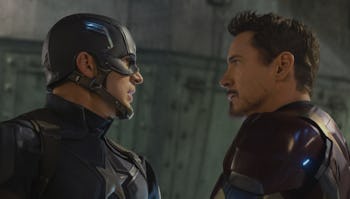 The early reviews of Captain America: Civil War have been filed, and from the initial reaction, it looks like Marvel's long winning streak is about to continue.
Disney screened Joe and Anthony Russo's superhero blockbuster on Friday night for members of the press who would be participating in the interview junket this weekend. It's a bit of a home team advantage, with Disney hand-selecting who would see the movie, but the enthusiasm for the epic team-up is hard to deny.
Some big picture reviews:
Specifically, reviewers seem to love the MCU debuts of Black Panther (Chadwick Boesman) and Spider-Man (Tom Holland), as well as a culminating action scene in an airport:
Just a note of caution: Some of the critics who loved Captain America: Civil War also gave raves to universally reviled Batman V Superman:
Captain America: Civil War hits theaters on May 6, at which point, you'll be able to judge for yourself.