Inverse Daily: Cybertruck Day
The Tesla Pickup Truck has been shrouded in mystery since it was first suggested in 2016, but today we finally get to see it.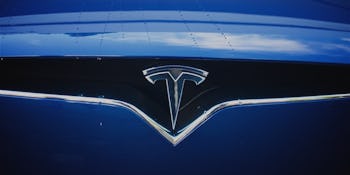 Reindeer. Sharks. Trucks. Robots. Math anxiety. It's all here for you on this Thursday morning. Truly a newsletter to be thankful for.
Here and now, a week before Thanksgiving in the United States, we should definitely rest assured that even if we are eating lab-grown turkeys in 10 years, we are still strategically overeating them. This is still America, after all. There's real warmth in familiarity, and it makes the future less cold. There's also warmth in sweatpants.
I'm Nick Lucchesi, executive editor at Inverse, and this is Inverse Daily. Let's get into some mind-expanding science and innovation, shall we? The rest of your day can wait a few minutes.
This article is an adapted version of the Inverse Daily newsletter. Subscribe for free and earn rewards for reading every day.
INVERSE QUOTE OF THE DAY
"I think we were just lucky to have everything in place."
— Paul Kuin, a researcher at the University College London's Mullard Space Science Laboratory.
Can't do without you, caribou
For much of the last 10 years, archaeologist William Taylor has spent his time in Mongolia. The country is famous for its pastoral communities — people who have found ways to thrive in some of the harshest landscapes on Earth. Among them are herders of reindeer, or caribou as they're known in North America.
These herders depend on the reindeer not only for their livelihoods, but also for their way of life, Taylor tells Inverse. Now, that existence — and the reindeer — are in danger.
In Northern Mongolia, patches of once-permanent ice are starting to melt. As a result, the region's reindeer are under threat, according to new research published this week. At the same time, melting ice is uncovering long-buried artifacts, exposing them to the elements and jeopardizing the region's archaeological record.
Read more about this new reindeer study →
Let's rein it in:
Hooray, Tesla "Cybertruck" day
The Tesla Pickup Truck has been shrouded in mystery since it was first suggested in 2016, but it's gradually formed something of a passion project for Tesla CEO Elon Musk. It's going to have a "cyberpunk" design, and it'll look like something out of Blade Runner. All of the publicized concept art guesses are wrong. In short, it could end up as one of Tesla's most surprising designs yet.
The vehicle is expected to be unveiled tonight, November 21, via the usual livestream on the Tesla website, reports Inverse staff writer Mike Brown.
The Tesla Pickup Truck was set to launch sometime after the Tesla Model Y. That car was revealed on March 14, 2019, with plans for the first ones to roll off the production line in the fall of 2020. During the company's fourth-quarter earnings call in January, Musk suggested that the truck may be ready for an unveiling in the summer. By July 2019, Musk had revised this to suggest a September or October release date. In September, Musk pushed it back again to November. This week, he hyped it on Twitter.
Here's everything you want to know about Tesla's new pickup →
The Cybertruck hype has reached a fever pitch, people:
A.I is coming for white-collar jobs
When you think about automation, there's a good chance you think about robots in a factory or a warehouse. That's partially because a lot of automation that is starting to be utilized more has to do with robotics. However, as a new report from the Brookings Institute explains, it's not only blue collar jobs associated with physical labor that are under threat.
Developments in robotics will contribute to the loss of largely blue-collar jobs but A.I. will also threaten the high-paying jobs many of us are striving to one day obtain, according to the report. Robert Maxim, a research associate in the Metropolitan Policy Program at Brookings, tells Inverse automation is going to impact pretty much every kind of job.
"Most workers in the US economy are going to see a disruption." →
Gain more insight with these stories:
Mic Check
Like you, we spend a lot of time on the internet. We also spend a lot of time managing the stress that comes with staying informed.
Mic Check is a place where we can work through what's happening in the world together, and have a little fun in the process.
For a daily morning brief on politics and culture, sign up here →
Math anxiety make you more … divided
Getting something wrong is never a good feeling. And for people with math anxiety, one wrong answer could spiral into a lifetime of avoided opportunities and limited choices.
"It is the vicious cycle of math anxiety," Kyoung Whan Choe, a postdoctoral fellow at the University of Chicago, tells Inverse. Anxiety may drive people to avoid difficult math problems, even if the rewards are high, scientists reported this week.
They found that this avoidance may hold people back from accessing immediate and long-term benefits, including lucrative careers in the sciences and engineering.
Read about the ripple effect of math anxiety →
Related stories:
The suit that bites back
It's very rare for a shark to bite a human, but many people are worried about sharks when they're in the ocean. We can probably thank Jaws for that. For those who are worried about this, some new research has discovered materials that can help make a shark bite far less lethal.
Scientists at Flinders University in Australia have released a study that looks at materials which are "resistant to puncture, laceration, and bites." Nice.
These materials can be incorporated into a traditional wetsuit so that someone who's swimming in the ocean will be less likely to bleed out after a bite, which is the main cause of death after a shark attack.
Duunnn dunnn… duuuunnnn duun →.
We're not fin yet:
Meanwhile …
Scientists have spotted a cosmic explosion one trillion times brighter than visible light.
Wearable skin could make virtual reality games unbelievably immersive.
Star Wars IX theory ties Kylo Ren's redemption to an overlooked trailer detail.
Inverse Loot
Subscribe to Inverse Loot and learn about these deals first.
That's all for today!
Thank you for reading and if you have a suggestion for how to make this newsletter better, drop me a line at nick@inverse.com. And follow me on Twitter where I retweet the best of Inverse every day.