Tesla Pickup Truck: Elon Musk's next car could feature a surprising design
The Pickup Truck has become a passion project for Musk.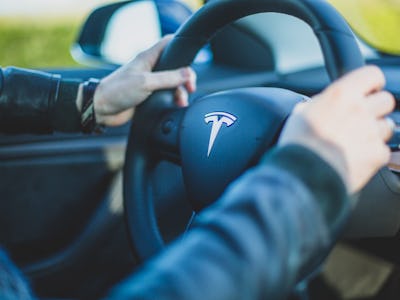 Unsplash / Bram Van Oost
The Tesla Pickup Truck could come with a more groundbreaking design than expected, Elon Musk has suggested.
The Tesla CEO was quoted this week by Joe Rogan, who previously hosted Musk on his podcast. Rogan, who owns a Tesla himself, said during an episode featuring comedian Brian Redban that he sent Musk a fan concept image of the Tesla Pickup Truck. Musk responded by telling Rogan that the vehicle would look "more Blade Runner-esque."
The comments are the latest indication that Tesla's upcoming truck, the third phase of a three-part plan outlined in 2016 to bring electric cars to the masses, could feature a more radical design than expected. Musk's previous comments have suggested that the vehicle will be "heart-stopping" and akin to something out of science fiction franchise Blade Runner.
But although Musk appears excited about the vehicle's design, the company has yet to release any clear details about the truck. A previously-anticipated summer launch was postponed, and Musk stated in September that the vehicle would be unveiled around November time.
Without any final designs released, speculation has run rife about the mysterious vehicle.
"I sent Elon a picture of a truck and I said, 'hey man, this looks fucking dope'," Rogan said in remarks spotted by Electrek. "He's like, 'that's not really our truck.' He said…what was his words? It's 'more Blade Runner-esque'."
Rogan had sent Musk a concept image produced by Emre Husmen in June 2019. Husmen, an Istanbul-based artist who has previously worked with clients like Ford and Fiat, has used his Instagram to share imagined concepts like an updated Tesla Model S. The Pickup Truck design features high suspension, four doors, and a curved body that cuts a futuristic shape.
Unfortunately, Musk has poured cold water on the concept.
"It looks amazing! But I think whatever he's doing is going to look even doper than that," Rogan said. "But no-one has seen it! He's somehow been able to keep it under wraps."
The closest anyone has come to seeing the vehicle was in March 2019, at the launch of the Model Y compact SUV. The teaser image showed a black box, a Tesla logo, and a thin shimmer of light. The teaser, shared during the Model Y webcast, was so subtle Musk had to point it out to Twitter followers the following day.
The truck is the third part of a three-part plan to make electric cars affordable, which started with the Model 3 sedan in July 2017 and will continue with the Model Y compact SUV.
However, Musk's promises of a futuristic design have left truck owners worried. In March, several owners told Inverse that Tesla could push traditional truck owners away if the vehicle breaks too much with conventions. Kyle Kootstra, a farmer from Bakersfield, California, told Inverse that "the blue collar and agriculture market will be very skeptical of this pickup."
Nonetheless, the popularity of the category in the United States has sparked excitement. An estimated 2.7 million pickup trucks will be sold in the United States this year, with an average selling price of just under $30,000.
"That's going to be a game-changer," Redban said during the Joe Rogan appearance. "I'm surprised he hasn't released it yet."
Watch the appearance below:
Although the truck is a mystery, one thing's for sure: it probably won't look like Emre's concept.