Stunning Tesla Model S Concept Render Imagines Roadster-Inspired Redesign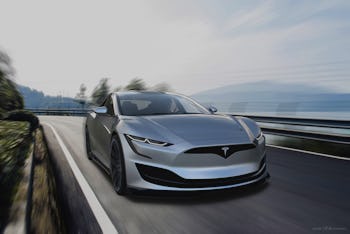 Emre Husmen
A new concept render shows how Tesla may update the Model S sedan for a new era. The design, released by Istanbul-based artist Emre Husmen on Sunday, shows how Elon Musk's company may update the 2012 vehicle with a newer design inspired by the upcoming Roadster sports car.
Husmen, who has worked for clients such as Ford and Fiat, tells Inverse the design was "completely my vision of the next generation," inspired by the Roadster unveiled in November 2017 with a release date of 2020. The design focuses on aerodynamic efficiency for speed and energy efficiency, with a carbon fiber chassis and fastback body styling. A set of C-shaped front laser lights pair with C-shaped rear OLED lights that change color for turn signals and reverse gear. Although the Model S is classed as a sedan, Husmen introduced a sportier design to reflect the fact that it performs faster than most Porsche 911s. Husmen produced the images for ElektroAutoMobil Magazine.
See more: The Tesla Model Y Looks Stunning in This Concept Art
Internally, Husmen has opted to kit the Model S with a curved 19-inch OLED screen acting as the central dashboard, while retaining the instrument cluster screen. The design also adds customizable OLED screens on the steering wheel, so users can place shortcuts front and center. The car also offers an intelligent tracking system to move between, front, rear and all-wheel-drive, while also bringing the level five autonomous technology expected to also roll out to Tesla cars manufactured after October 2016.
The new Roadster, unveiled alongside the Semi truck, improves on Tesla's original 2008 vehicle with a slick design, a top speed over 250 mph, a 200 kilowatt-hour battery pack, and acceleration from 0-60 in 1.9 seconds — a figure that may prove slightly conservative, according to professional driver Emile Bouret that got a hands-on with the car. Unlike Husmen's design, prototype models show the Roadster with an even more minimal design than the Model 3, with both cars dropping all other screens in favor of a single, giant screen on the dashboard.
Whether the single screen will make it to the final product, along with the questionable steering wheel, is anyone's guess. One thing's for sure, though: Husmen's renderings show how the Model S design, first unveiled in 2009, has started to look rather dated in the wake of Tesla's newer cars.
With CEO Elon Musk teasing the Roadster will come with a "SpaceX options package," Tesla looks like it's about to enter a new era with its electric cars.