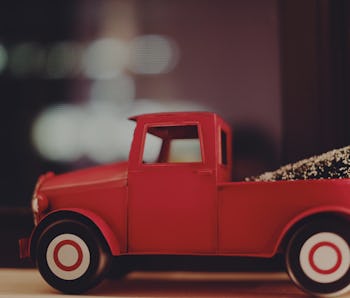 Innovation
Tesla Pickup Truck: Elon Musk Set for Culture Clash as Drivers List Demands
'The blue collar and agriculture market will be very skeptical of this pickup.'
Unsplash / louis magnotti
Elon Musk is pouring his heart into a pickup truck, but it could miss the mark with its key audiences. The Tesla CEO has declared the upcoming vehicle will have a "futuristic-like cyberpunk, 'Blade Runner'" design that's "heart-stopping," describing it as "the thing that I am personally most fired up about." It sounds incredible, but comments like these have put Tesla fans with pickup truck experience on edge.
"I am a former truck person," a Reddit user called "dinozero" wrote on the Tesla subreddit this month. "So far every comment he's made about the truck has made me nervous."
The truck forms part of a broader strategy to bring Tesla's vehicles to more consumers, first outlined in 2016 as a means of moving beyond the premium-priced Model S and X. This also includes the $35,000 Model 3, the company's cheapest-ever vehicle that hit roads in July 2017, and the Model Y compact SUV unveiled this week.
Musk has entered listening mode at various stages of its design process. In June 2018, he fielded suggestions from fans about what such a truck should contain. He gave a thumbs-up to features like all-wheel-drive, dynamically adjusting suspension, 360-degree cameras, and sonar. These are welcome additions for tech fans, but those in the world of pickup trucks have their worries.
"The blue collar and agriculture market will be very skeptical of this pickup," Kyle Kootstra, a farmer from Bakersfield, California, tells Inverse. "It's going to be a bit of an uphill battle for them, but a lot of the farmers I know value utility. If Tesla can do what an ICE [internal combustion engine] can do, but better, and is affordable, they'll switch."
Ahead of the truck's unveiling scheduled for later this year, here's what truck fans want:
Tesla Pickup Truck: The Paleontologist
Musk may disapprove of burning fossil fuels — a practice he declared the "dumbest experiment in human history" — but his pickup trucks could play a part in digging up other dinosaur remains. James Kirkland, a state paleontologist with the Utah Geological Survey, tells Inverse that his team needs a pickup truck with good clearance for working on archaeological digs.
"First thing I do is look to see what I can drive over," Kirkland says. "A lot of four-wheel drives are basically designed for skiers! Also traction and stable wheelbase."
Kirkland's team uses two vehicles on digs. The first is a truck for towing out camp and field supplies on a trailer, with an open cargo area for oversized items and fuel. The second is an SUV for transporting people to satellite sites and providing protection from lightning.
While Kirkland has big dreams for his ideal truck, like a crane-hoist, funding is tight and it took years for the state to even agree to a trailer.
"Basically any team I know is on a shoestring budget, such that the global expenditure for field paleo, is certainly well below cost of one fighter plane," Kirkland says. "I like to joke that we pride ourselves in our flexibility in getting the job done."
A mass market vehicle at the right price could help convince skeptical finance departments.
Tesla Pickup Truck: The Farmer
Kootstra has a simple list of demands from the pickup truck. It needs to be easy to repair, powerful, modular, and travel a long distance on a single charge. That latter point shouldn't be an issue, as the truck is expected to offer a far higher range than the Model 3's 310 miles.
"It's a good range, equivalent to my Chevy 2500, but it also needs range while under a load," Kootstra says. "If it pisses a charge as soon as you start towing a trailer it will draw a lot of criticism and people looking to use it as a work truck will think twice."
The truck will also need to handle a variety of conditions, like mud, rain, ice and floods, all without failure.
"Don't let those Ford Tough commercials fool you, driving a truck or any vehicle off road beats the hell out of them creating all sorts of repair issues over time," Kootstra says.
Kootstra also wants a repairable design open to modular attachments. That means drivers can add on bumpers and hitches to make their vehicle suit their profession. It also means a design that users can fix themselves, meaning workers can get back on the road in a short time. Tesla, however, currently offers a range of services to fill the gap.
"People in agriculture a lot of times do not have easy access to a service center and we tend to repair a lot of things ourselves," Kootstra says. "If we had our Tesla trucks break, and we could not fix it until we towed it to an LA service center, it'd be a dealbreaker."
Tesla Pickup Truck: The Satellite Installer
A futuristic pickup truck sounds cool, but it has former satellite installer Derek Reynolds concerned. He tells Inverse that something out of Blade Runner may sound like a science fiction dream, but it's not really what the average truck owner wants.
"Trucks in parts of the country are every bit as much of a status symbol as a BMW or Mercedes (or Tesla now)," Reynolds says. "If it's too futuristic looking or not 'rugged' it will struggle to sell in my opinion. You're not buying a truck if you're going to get made fun of when you pull up to the job site."
Another concern is that Musk will focus on gadgets over usability. A truck will full "Hardware 3" support, enabling full autonomous driving later, could raise the price without offering more battery range at the same time. A truck that drivers need to regularly recharge could undermine the business case.
"I do hope they focus on reliability," Reynolds says. "I'm driving a 15-year-old F-150 and aside from normal maintenance, it's still rock solid with few problems."
Reynolds' key concern is that Musk will design a vehicle for Los Angeles electric car fans when there's a much broader market with different ideas of how a car should look.
"The top three selling vehicles of 2018 were the F-series, the Silverado, and the Ram," Reynolds says. "If Tesla wants to be a part of the mass market they have to break into that segment."