Inverse Daily: Is Intergalactic Internet Possible?
If humans colonize other planets and they can't share it on Instagram, did it really happen?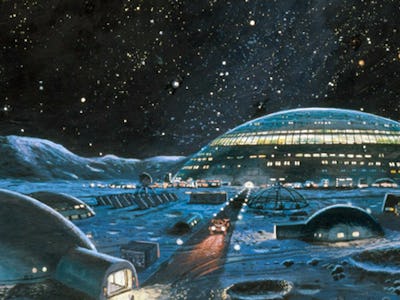 Happy Monday, Inverse Daily fam. While I'm here avoiding all invitations to see the terrifying-looking Scary Stories to Tell in the Dark, let's get you caught up on today's news.
You're reading an adapted version of the Inverse Daily newsletter. Subscribe for free and earn rewards for reading every day.
INVERSE QUOTE OF THE DAY
"I think it is fair to say that humans are now a much greater threat to sharks than sharks are to humans."
— Marine ecologist Tom Letessier, Ph.D., on the real victims in the ocean.
Preparing for Takeoff
It's a bit of a pain point for NASA that it's been unable to send its own astronauts to the International Space Station since the shuttle program ended in 2011, which is totally understandable. Paying $81 million per seat on Russia's Soyuz rockets is hardly an easy bill to stomach. But that will change, thanks to the federal space agency's recent embrace of commercial partners. Boeing, together with SpaceX, is developing the CST-100 Starliner to send American astronauts to space without having to hitch a ride.
But the question on everyone's minds is: When will that actually happen? The Demo-1 test launch, which took place in March, sent only cargo into space. Demo-2 is supposed to bring humans along for the ride, but it already missed its target launch date in July, and SpaceX has suggested that its astronauts won't take flight until 2020. They'll be ready, though; Robert Behnken and Douglas Hurley are already at SpaceX's headquarters in Hawthorne, California, deep in training for their first flight.
Find out what the big holdup is.
The more you know:
Beyond Burgers
Much fuss has been made over plant-based burgers, like those offered by Beyond Meat and Impossible Foods. They taste, look, and feel (in your mouth) pretty much like the real thing, and they're relatively good for the planet, to boot. But there is more to meat than burgers. Even if even the fussiest carnivore gets on board with plant-based meat, there's only so many ground-beef-like patties a person can take.
That's probably why both companies are expanding their culinary ambitions. Beyond Meat has plans to move into Subway "meatballs," and Impossible Foods is taking on steamed bao buns and fish. Traditionally, meatballs and bun fillings are made with ground meat, so it doesn't seem like that will require any groundbreaking new innovation. Making plant-based fish, however, seems like it'll be harder to pull off, but it's part of Impossible Foods' plan to recreate every animal-based product by 2035.
Discover more about the next wave of plant-based meats.
The more you know:
Online in Outerspace
Between SpaceX's plans to build a Mars colony, Blue Origin's vision of a series of nearby manmade worlds, and NASA's dream of building a lunar gateway that orbits the moon, we are rapidly entering a future where there will be a lot of people in space. And you know what people are always going to want? Internet access.
Like every friend who's ever asked for the wifi password at your house, space-faring individuals will also inevitably look for a way to connect. It's a big ask, considering we haven't even figured out how to get decent 4G on some subways, but a company called Hypergiant is already working on it. As Mike Brown tells me, the company, better known for its A.I. software, is planning to support all our new human space settlements with an interplanetary internet.
Here's how we'll be able to stay online between worlds.
The more you know:
Sunday Scaries
Beat the "Sunday Scaries" with soothing science and relatable advice to get your mind & body ready for the week ahead.
Zero Chill
Nobody likes being anxious or stressed out, especially when those feelings hold us in their grip for long periods of time. When they become a chronic problem, they can even manifest as physical ailments. It wouldn't be a stretch to say that avoiding stress and anxiety is generally a good idea. That said, reports Peter Hess, they're sometimes more helpful than harmful.
This week, the American Psychological Association is having its annual conference, and on Saturday the psychologist and New York Times columnist Lisa Damour, Ph.D., said it's about time we reframed the way we think about those feelings. Since stress is something we experience when we are pushed to the edge of our abilities, it can signal to us that we're growing. Anxiety, meanwhile, should be thought of as an internal alarm system to ensure we're aware of threats to our well-being.
Learn more about how to make the most of bad feelings.
The more you know:
Today's Good Thing
Today, that's Los Angeles County's board of supervisors, which unanimously approved a sustainability plan to go carbon neutral by 2050. The OurCounty plan includes several strategies covering how to phase out fossil fuels, transition workers toward the clean energy industry, and draw 80 percent of water from local sources.
Meanwhile …
Inverse Loot
Subscribe to Inverse Loot and learn about these deals first.
Thanks for reading, gang!
I was surprised how many readers wrote in to tell me that aliens didn't exist. I prefer to keep an open mind.
What plant-based meat dish would you like to see next? Let me know at yasmin@inverse.com.
So I've heard, but what's that gotta do with this black hole and me?
— Yasmin