NASA Astronauts Just Met SpaceX Crew Dragon Team Ahead of Historic Flight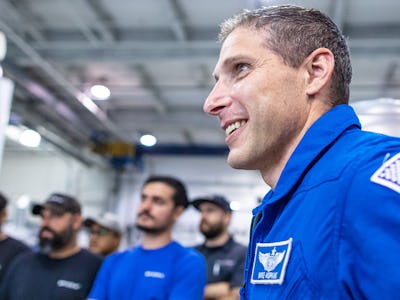 SpaceX/Instagram
The first four NASA astronauts set to enter space in SpaceX's Crew Dragon capsule met the team behind the pod at the factory on Monday. The meeting comes ahead of the first launch, an historic moment for travel as the first American astronauts on board a commercial spacecraft.
The four men visited the company's Hawthorne, California headquarters in a visit captured on the SpaceX Instagram page. The visit comes less than two weeks after NASA announced the first crew members for the SpaceX capsule and Boeing's competing CST-100 Starliner pod. The missions will ferry people to and from the International Space Station after the agency's contract expires with the Russian Soyuz craft in November 2019. As well as the first American commercial astronauts, the launches will mark the first time an American spacecraft has launched from U.S. soil since the shuttle program was retired in 2011.
See more: NASA Unveils Its Dream Team of Astronauts for the First Commercial Flight
The Crew Dragon test flight will see Robert Behnken and Douglas Hurley embark on the historic trip. Behnken is a Missouri native who's worked as an astronaut since 2000, flying aboard space shuttle Endeavour twice where he undertook six spacewalks. Hurley is from New York and also worked as a NASA astronaut since 2000, also embarking on an Endeavor voyage as a pilot.
Following a successful test flight, astronauts Victor Glover and Michael Hopkins will be the first two to fly on a full mission. Glover is a test pilot with almost 3,000 hours of flying experience in over 40 aircraft, but this will be his first time in space. Hopkins is an Air Force colonel from Missouri that was first selected as an astronaut in 2009, subsequently completing 166 days and two spacewalks on the International Space Station.
When these flights will occur is unclear. The Government Accountability Office warned last month that both SpaceX and Boeing may be unable to plug the gap left by the Soyuz expiration, leaving NASA to scramble for a solution. SpaceX CEO Elon Musk expressed confidence earlier this month that his firm will be able to send humans into space by April 2019.
The new space race is taking shape.