These Are the Best Rated 4K TVs on Amazon
Snag a great new TV from Amazon from a selection of displays you can trust.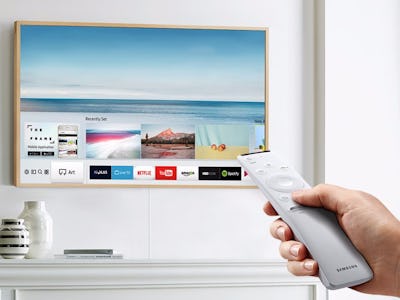 Samsung
Does your living room need that little extra something? Tired of having to squint at words on your tiny old TV set? You need a new 4K TV, and quick! Lucky for you, Amazon's positively chock-full of them, and you've got tons to choose from there. So if you want to take your entertainment center at home and spruce it up considerably, be sure to choose one of these babies for a viewing experience you won't soon forget—just make sure you don't get too drawn in while binge-watching!
TCL may be a budget brand, but it's absolutely capable of producing cheaper-priced TVs that are well worth the money. You can opt for this one in both 55-inch and 65-inch versions, but the smaller version does include a Wi-Fi remote and plenty of functionality as the larger version—so don't think you're missing out or anything. You get way more TV for the price here than you may be used to with other brands, and that's honestly the draw with TCL in the first place – but you're getting quality, too! If you have to have the most screen real estate possible, consider picking up this TV for the bang for your buck.
This massive Samsung TV has plenty of real estate as well as some of the brightest, most dazzling colors you'll see in a home set. Plus, it offers rich 4K colors with gorgeous true blacks. If you've been looking for a bright, sumptuous replacement panel to be the centerpiece of your living room, you can't go wrong with this Samsung QLED model. Just be forewarned: You can't leave it on all the time with QLED, or you might deal with burn-in. Otherwise, it's an absolutely fabulous choice.
Toshiba is a familiar brand for anyone shopping for smart TVs, so you already know you can trust the name. This particular model has also amassed several excellent reviews since being listed online, and for good reason. It's rocking a massive 50-inch screen with 8 million pixels, a voice-activated remote with Amazon Alexa support, and an attractive bezel and even better prize. It's a little over $300, which is an absolute steal for a TV this large from a big brand. If you're tired of using your Chromecast or Apple TV in tandem with your non-smart TV, you can't go wrong with this one for an upgrade.
This gorgeous 55-inch behemoth rocks truly gorgeous HDR and UHD quality with millions of shades of color. What's more, it features a sleek, slim design with an awesome smart remote that makes it simple to find the content you love and start watching it right away. It supports Alexa and Google Assistant as well, so you can accomplish all of this all while using just your voice – you know, for all those moments when you can't find your remote (trust us, we've been there.)