SpaceX's First Astronauts Train Up for Space, but Crew Dragon Faces Delays
"Houston, do we have a problem?"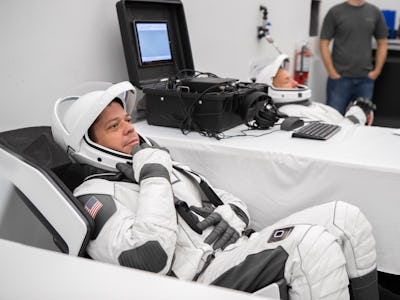 SpaceX
SpaceX and NASA have been gearing up for a landmark event: the first American astronauts to enter space aboard a commercial craft. Unfortunately, it may take a while to make history.
Robert Behnken and Douglas Hurley prepared for the big moment at a recent training event at the SpaceX headquarters in Hawthorne, California. The event, detailed by NASA in a Thursday blog post, saw the pair run through the exact procedures expected on the first manned launch of SpaceX's Crew Dragon capsule. The "Demo-2" test flight will follow the "Demo-1" mission held in March, an unmanned launch of the Crew Dragon capsule that sent 400 pounds of cargo into space.
The success of the "Demo-2" test could pave the way for simplifying transport to and from the International Space Station. Ever since NASA"s shuttle program ended in 2011, the agency has been buying seats on Russian Soyuz rockets at $81 million each to reach the space station to continue research. SpaceX is working alongside Boeing, the latter of which is developing the CST-100 Starliner, to develop a solution that can send American astronauts into space a bit closer to home.
There's one big "if" on all this. The "Demo-2" mission has slipped from its planned July 2019 launch, and experts are concerned SpaceX will continue to slip further. Issues with capsule testing have added further fuel to that fire of speculation. A blog post at the end of last month suggested that, instead of the expected launch before the end of this year, Behnken and Hurley won't fly until 2020.
As SpaceX has never flown a human into space before, success with "Demo-2" could also fuel confidence in its more far-flung plans. These include sending a team of artists around the moon in 2023, sending the first humans to Mars at some point after, and establishing a city on Mars by 2050.
The pressure is on to get it right.
The pair is expected to take off using a Falcon 9 rocket from Cape Canaveral Air Force Station in Florida. The two astronauts have an impressive resumé that makes them well-suited for the mission:
Robert Behnken is a former Air Force colonel. Born in St. Ann, Missouri, he had a doctorate in engineering. During his 19 years as an astronaut he has flown on the shuttle Endeavour twice, for the STS-123 mission in March 2008 and STS-130 mission in February 2010, logging 37 hours of spacewalks over six sessions. Behnken has spent a total of 708 hours in space.
Douglas Hurley has also worked as a NASA astronaut since 2000. A New Yorker, Hurley has a degree in civil engineering from Tulane University. Before his time at NASA, he was a Marine Corps fighter pilot. As an astronaut, he was the pilot on the STS-127 and STS-135 missions.
During the session, the pair worked with ground operators to simulate the "Demo-2" mission. They suited up by following the same procedures expected on launch day, then performed a simultaneous launch countdown. They then prepared for the worst by simulating an emergency exit scenario.
It's not the first time the pair have gone hands-on with the SpaceX equipment. A November 2018 video showed the pair working in a demonstration Crew Dragon, trying out the interface.
SpaceX Crew Dragon Hits Trouble
NASA first announced the two participants in the Commercial Crew program back in 2014, announcing the roster of astronauts in August 2018. Progress seemed promising, but NASA had to extend its contract with Roscosmos in February to avoid a gap in services, pushing the end date from November 2019 to December 2020.
The "Demo-1" mission went off without a hitch on March 2, sending up 400 pounds of cargo to the space station Also on board was "Ripley, a dummy fitted with a SpaceX suit covered in sensors to collect critical data.
Following the "Demo-1" test, the next step was an in-flight abort test to test what would happen if the capsule needed to escape during a launch failure. However, in April, the capsule suffered a severe anomaly with its thrusters, in footage that went viral. SpaceX explained three months later that around 100 milliseconds before the eight SuperDraco thrusters were engaged, nitrogen tetroxide was allowed to enter high-pressure helium tubes. The titanium component failed, in an unexpected way that SpaceX claims will help fine-tune the capsule's design.
Another failure in April emerged during a committee hearing in Congress. SpaceX was testing a failed parachute scenario, to see how the system would work when one of the four parachutes failed. In practice none of the parachutes worked. The agency's associate administrator of human exploration, Bill Gerstenmaier, described the failure as a "gift."
Recent reports have not struck such a favorable tone. The Government Accountability Office warned in June that both Boeing and SpaceX have run into "chronic delays." The report warned that, as the Soyuz contract expires in September 2020, NASA may need a backup plan to avoid disruptions.
NASA won't be able to depend on Boeing, either. The CST-100 has yet to complete a maiden voyage, but the team completed a series of parachute flight tests this summer.
SpaceX has also admitted that more delays may be on the cards. Hans Koenigsmann, SpaceX vice president of build and flight reliability, stated in July that "by the end of this year, I don't think it's impossible, but it's getting increasingly difficult."
Personnel changes at NASA are expected to result in new deadlines. At the end of last month, the agency issued a press release that explained that NASA administrator Jim Brindenstine "has directed all programs in the Human Exploration and Operations Directorate to reexamine flight dates once new leadership is in place to deliver realistic schedule plans." The entry concluded that "NASA and our partners want to fly astronauts as quickly as we can without compromising the safety of our astronauts and always will give safety precedence over schedule."
It may be a while before Behnken and Hurley have their chance to make history.