Beyond Meat Probably Won't Replace Meat, and That's Okay
Being the bitcoin of burgers has its advantages.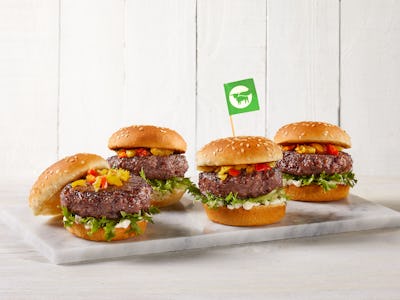 Beyond Meat
Beyond Meat has been sizzling on the stock market. The plant-based alternative to animal-sourced meat has seen its stock value skyrocket since the company went public in May. It's the subject of enthusiastic coverage by the financial press and is selling even more shares.
It's been a big week for plant-based food. Impossible Foods, a major competitor to Beyond Meat, announced that Burger King will roll out its plant-based Whopper across the United States for a limited time. The firm also got the go-ahead from the Food and Drug Administration to sell its burgers in American supermarkets. Beyond Meat's stock price also soared to reach peaks of nearly 800 percent higher than its initial public offering in May.
Commentators have questioned whether these milestones show that Beyond Meat really can replace actual meat, but that might miss the value they bring to the market. Market projections suggest that Beyond Meat and Impossible Foods are on course to fail as outright replacement. But that was always an incredibly tall order: global food culture is very diverse, and values differ throughout the world. Even if it can't fully replace meat, finding a niche big enough to have a measurable effect on meat consumption could still bring huge environmental and social benefits.
Beyond Meat: Why a Burger Is a Bit Like a Bitcoin
The race to replace the animal, spurred in part by environmental concerns, has meant plant-based alternatives have grown five times faster than total US retail food sales, according to a report from the Good Food Institute, a pro plant-based meat think tank.
The hype around these products has led some to sound the alarm. Beyond Meat's stock price surge has led to comparisons with bitcoin. The cryptocurrency jumped to around $20,000 in December 2017, but its price then collapsed and currently rests around half its all-time high. Bitcoin did not replace fiat currency, and commentators question whether Beyond Meat could ever replace meat.
"Revolutionary it may be, but the long growth runway that is likely still ahead for Beyond Meat and its rivals including Impossible Foods may face a limit," observed journalist Andria Cheng in Forbes. Cheng pointed to Nielsen research that shows 98 percent of plant-based meat consumers also buy meat, and they actually spend more on meat per annum than most. The Nielsen study concludes that regular meat is "formidable and resilient."
All signs point to an uphill battle for plant-based meat. But Beyond Meat and others could occupy a wide lane without threatening to take over the market, much in the same way bitcoin has found a niche and growing audience of loyal users.
Beyond Meat: The Race to Cut Meat Out of the Diet
Reducing meat consumption is an attractive goal. There's the ethical quandary of setting arbitrary lines about which animals are okay to eat and which aren't, for starters. University of Queensland psychology fellow Brock Bastian described this as the meat paradox, where humans deny animals certain morally-relevant attributes.
Putting aside the moral question for a moment, there are a number of practical reasons why cutting back on meat would be a good thing. Overconsumption of processed meat can increase the risk of certain cancers. The WWF has found that global meat demand is responsible for 60 percent of global biodiversity loss, as farmers race to produce more crop-based feed for animals.
This has an adverse effect on the environment. Although 80 percent of farmland is used for animals, according to University of Oxford research, that fraction only supplies 18 percent of food calories. Joseph Poore, lead author of the study, stated that going vegan "is probably the single biggest way to reduce your impact on planet Earth, not just greenhouse gases, but global acidification, eutrophication, land use and water use," describing it as "far bigger than cutting down on your flights or buying an electric car."
The evidence suggests that eating less meat is healthier, more environmentally friendly, and a smarter use of global resources. Perhaps it's of little wonder that Beyond Meat and Impossible Foods are both targeting rapid expansion into Asia, a continent that consumes nearly half of the world's meat.
Beyond Meat: Why the Plants Might Not Beat Meat
Beyond Meat was founded in 2009, and Impossible Foods two years later. Both of them aim to recreate the taste of meat by using plant-based products, with clever techniques that can simulate effects like "marbling" from the meat's fat.
Note that this is not the same as lab-grown meat, which places animal stem cells in a bioreactor to grow new meat. While plant-based meat has seen adoption in places like Burger King, lab meat is not expected to hit plates until 2021.
A report from AT Kearney in June illustrates the coming battle between all three food sources. The consultancy firm predicts that, while plant meat will enjoy early growth to claim 10 percent of the meat market by 2025, lab-based alternatives will eat into its lead due to its more convincing taste and greater scope for innovation.
That's not to say that plant-based meat will fail. In fact, the two together could outstrip conventional meat by 2040.
The report doesn't expect any single product to dominate the market, and that matches up what you might expect from a global food market. Food is an important aspect of culture, as chefs accommodate to varying tastes across the globe. Organic is big business in Germany, European vegetarians are more driven by environmental concerns than their Indian counterparts, and the United States shunned rotating crops in favor of meat due to comparatively better agricultural conditions than other countries. It's hard to summarize all the intricacies of global food culture in one paragraph, which helps to explain why a single meat replacement probably won't dominate the world.
Food researcher Hanni Rützler was one of the first to try a lab-grown burger back in 2013. Speaking to Inverse in July, she said the people that want lab meat to replace regular meat are "mainly male … and very little of them are culturists." She noted how the freshness-focused German-speaking world dismissed the lab-grown patty as a "frankenburger," demonstrating how the world doesn't take to the same foods in exactly the same ways.
It's unlikely that Beyond Meat or any other brand will reverse thousands of years of global culinary history. But if it's able to convince a large fraction of the market to reduce its meat consumption, as projections suggest, and that could be enough to prove its value.